Israel Galvan (Spain). Adelaide Festival 2018. Her Majesty's Theatre. 9-11 March, 2018
Flamenco is a dance form from Southern Spain, particularly Andalusia, Extremadura and Murcia. The oldest record of flamenco dates from 1774. Since then, it has evolved to become not only synonymous with Spain but also a popular international dance form. Flamenco has numerous elements, which includes cante (singing), toque (guitar), jaleo (vocalisations), palmas (hand-clapping), pitos (finger-snapping), and baile (dance). Furthermore, there are different styles of flamenco – flamenco puro, classical flamenco, modern flamenco and flamenco nuevo. The origin of the word flamenco is highly debated. One possibility is that it comes from the Hispano-Arabic term fellah mengu, which means "expelled peasant". This has a rebellious connotation, and indeed that defiant nature is still very much a part of flamenco nuevo, as evident in Israel Galvan's FLA.CO.MEN.
FLA.CO.MEN is terrific. As its title suggests, from the very beginning it is subversive of the older forms and traditions. Israel Galvan shuffles on to the stage, accompanied by violinist Eloisa Canton who functions as translator in this opening sequence. Israel Galvan wears a full-length, simple, white apron – the dress of a servant. He stands in front of a music lectern, reads, and demonstrates the formal rules of flamenco. His power and skill is immediately apparent, as is his rather contemptuous attitude to the strictures of formal flamenco. It's as if he is stating, 'Yes – I can do this; what next?' What happens next is astounding.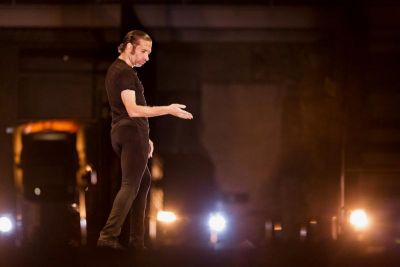 All the elements of flamenco are performed but in an innovative and informal way, so that it seems as if it is improvised. A couple of sequences are wonderfully audacious. At one point Israel Galvan jumps off the stage and sits in a dark corner of the auditorium eating chips and drinking, whilst nothing is happening on the stage. He is, of course, poking fun at the audience.
Another sequence involves the complete blacking out of the stage and auditorium whilst Israel Galvan walks around the entire stalls. You can't see anything. All you can hear are the rhythms he is clapping, finger-snapping, and beating on respective objects.
Other 'objects' are used in various sequences, including a porcelain boot that is smashed on-stage, as well as silver coins that jump and sparkle in the light as Israel Galvan dances amongst them.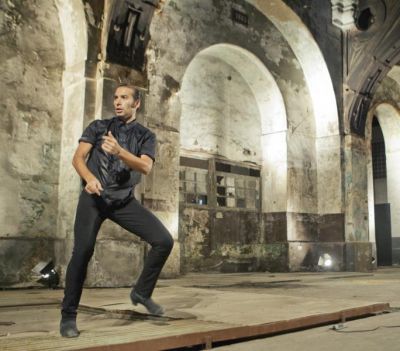 The talent and skill of Israel Galvan and his ensemble of senior Spanish artists is awesome and breathtaking. This includes, Antonio Moreno, David Lagos, Jimenez, Tomas de Perrate and Caracafe. The singing and vocalisations of David Lagos and Tomas de Perrate is magnificent, and the playfulness and brilliance of legendary Spanish guitarist Caracafe is a joy to behold. Carafe even does a dance with his guitar that is funny and simply delightful. All these artists, including Eloisa Canton and Israel Galvan, are rebels. They take the formal strictures of flamenco, subvert, and re-invent them in a dazzling and powerful display of extraordinary talent and skill.
The rebellious, playful and subversive nature of this performance continues into the curtain call. I won't spoil the surprise, but it is hilarious.
The standing ovation, cheers of approval and praise from the relatively packed house last night is indicative of the brilliance this performance. If you wish to see flamenco nuevo at its very best then do not miss Israel Galvan and his wonderful ensemble in FLA.CO.MEN.
Tony Knight
Images: Luis Castilla Fotografia
More Adelaide Festival 2018 Reviews