By Annie Baker, directed by Nadia Tass. Red Stitch Actors' Theatre. Shebeen, 36 Manchester Lane, Melbourne. August 2nd – 17th, 2014
Playwright Annie Baker won the 2014 Pulitzer Prize for Drama with The Flick, and it's easy to see why. This beautifully written and structured play gives us an honest, insightful and heartfelt look inside the lives of three people working together in a neighbourhood cinema, one of the last of its kind to still be screening movies on film in this digital age.
Obsessive film fan Avery (Kevin Hofbauer) has taken the job while on a break from college as a means of indulging his passion for the medium, only to be confronted by the mundane realities of sweeping up after shows and the staff's predilection for skimming the box office receipts for 'dinner money'. Alienated and suffering from depression, he's initially wary of his fellow worker Sam (Ben Prendergast) and projectionist Rose (Ngaire Dawn Fair), but over time their working relationships blossom into friendship.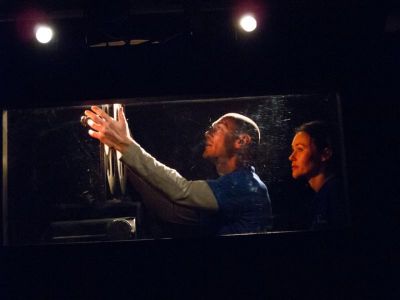 As these characters reveal more of themselves during the course of the play, evocative themes are played out – the awkwardness of intimacy, the frustration of finding your life may never turn out the way you want it to be, the ethical dilemmas that show you who your true friends are.
Ms Baker's fine writing is perfectly complemented by the performances of the three leads, all of whom were unwaveringly convincing and utterly committed to the integrity of the piece.
The set design is effectively evocative of the decrepitude of the dying single screen movie house, and director Nadia Tass has mined the script to bring out its nuances and subtleties, expertly handled by her excellent cast, making this a must-see production.
Alex Paige
Images: Ben Prendergast as Sam and Kevin Hofbauer as Avery & Ben Prendergast as Sam and Ngaire Dawn Fair as Rose. Photographer: David Parker.