By Annie Baker. Queensland Theatre / Red Stitch Actors' Theatre. QPAC. February 10 – Mar 5, 2017
Annie Baker's Pulitzer Prize-winning play The Flick comes to life by Queensland Theatre in association with Queensland Performing Arts Centre and a Red Stitch Actors' Theatre. Described by Artistic Director Sam Strong as 'a contemporary Chekhov' – this production exposes the surprising tenderness and comedy in the everyday.
The play is set in one of the last single-screen movies theatres in Worcester County, Mass., which has clearly seen better days (you can practically feel the stickiness of the floor in Shaun Gurton'sperfectly minimalistic set). It begins with long-time, 35-year-old employee Sam (Greenroom Award Winner, Ben Prendergast) showing 20-year-old newbie and film geek Avery (Kevin Hofbauer) the ropes, which really doesn't take very long. So the men pass their time cleaning the theatre in small talk, including a passionate debate about whether Avatar is a great film. Ngaire Dawn Fair is a breath of fresh air, as the seemingly cold yet subtly insecure Rose. She's the projectionist in this out-of-date 35mm movie house that may or may not succumb to a digital transformation. A world swept forward by accelerating technology runs as a subtext.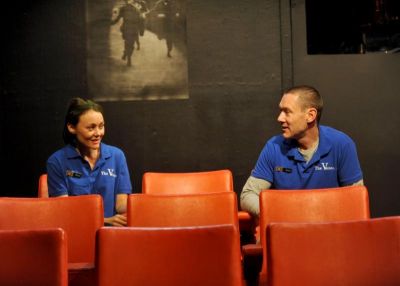 Baker's two-act drama is a bit longer than most contemporary plays, but be patient. Everything that's naturally introduced in act one has a payoff in act two. You learn a lot about each character, their aspirations and their hit-and-miss efforts to connect in an uncertain world. It builds its emotional power more slowly, through the gentle accumulation of everyday interactions. Baker immerses you fully into the world, where events occur in real time and her rigorous attention to detail reveals the unexpected drama in the apparently mundane. The lengthy pauses and silences are enough to make even the most patient of audience members throw up their hands. And yet, it all works, thanks to the incisive characterizations, sensitive direction by the multi-award winning Nadia Tass and fully lived-in performances by the ensemble.
Playwright Annie Baker creates the illusion of claustrophobic timelessness with the careful build-up of smothering details. Tass directs her characters the same way, by layering on fragments of information and mannerisms that provide insights into their lives, or, at least their lives within the confines of a movie theatre. Once you acclimatize to the pace, this beautifully acted show taps into the undeniable thrill of a stage occupied not by high drama or raging conflict but the rarely seen every day, or as some people call it, the truth.
Mel Bobbermien
Photographer: Jodie Hutchinson