By John Romeril. Griffin Theatre Company. SBW Stables Theatre, Sydney. Director: Sam Strong. 4 October – 16 November, 2013
John Romeril's free-wheeling 1974 drama is given a welcome revival by Sydney's Griffin Theatre Company, as dedicated a group of contemporary Australian writing enthusiasts as was Melbourne's famed Australian Performing Group, whose production of The Floating World at The Pram Factory was one of their proudest achievements.
Fast, funny and always 'experimental' in form, Romeril's text seems hardly dated, except for the many 70s references. His blinkered, suffering antihero Les Harding, superbly played by Peter Kowitz, is the sort of full-on working-class Aussie character we don't see in theatrical action anymore, with wicked Barry Humphries comic energy allied to deep rage and terror.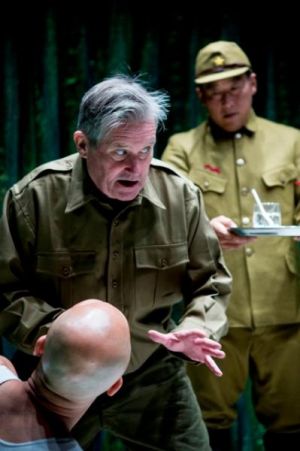 Les and his sweetly long-suffering wife Irene (Valerie Bader) are on a 'Women's Weekly Orange Blossom Cruise' to Japan though, typically, he has failed to get them a cabin on their own. The cruise ship is an ex-troopship, and the cabin crew reminds repressed Les of his shocking wartime captivity at the hands of the Japanese.
Also on board are a moustached English ex-navy man (Tony Llewellyn-Jones, expertly channelling Terry-Thomas) and an aggressive Entertainments Officer (Justin Smith, horribly funny).
As this floating world progresses towards Japan, so increasingly uncoupled Les consumes more and more cans of 'export quality Fosters', dipping in and out of his wartime traumas, jumbling a torrent of words and memories that expands in Kowitz's expert hands to a mighty stream-of-conscious soliloquy. It covers 8 packed pages in the published script that comes with the program.
The 40-year-old classic is vital and fresh in the hands of director Sam Strong, with a simple and effective design by Stephen Curtis and versatile lighting by Verity Hampton.
Frank Hatherley
Images: (top) Peter Kowitz and Valerie Bader & (lower) Peter Kowitz and Shingo Usami and Justin Stewart Cotta (back of head).
Photos by Brett Boardman.