By Peter Fitzpatrick. Magnormos (Vic). Comedy Theatre, Melbourne. Director/Musical Arranger: Aaron Joyner. Producer: Margaret Fisk. Music Director Sophie Thomas. Set/Costume Design: Christina Logan-Bell. 23rd May – 23rd June, 2013.
flowerchildren is a triumph with glorious singing, wonderful writing, and eye-catching visuals. Peter Fitzpatrick's musical about 1960's musical sensation The Mamas and The Papas, is an original delight.
flowerchildren's narrative follows the success and self-destruction of The Mamas and The Papas between 1965–68 when they released five albums and had eleven Top 40 hit singles including California Dreamin', Monday Monday, and Go Where You Wanna Go.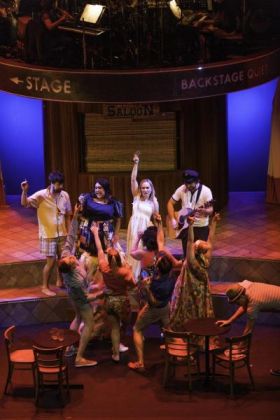 The Mamas and The Papas brand centred around songs written by band member John Phillips, and on rich four part harmonies, and flowerchildren's success depends on the ability of the central characters to reproduce the quartet's sonorous strains. And they are superb. Laura Fitzpatrick, Matt Hetherington, Dan Humphris and Casey Donovan are completely at home in their roles, and collaborate with ease. Donovan shines brightly as Mama Cass. Each takes their turn telling the narrative story, culminating in a 'where are they now' reveal at the close.
Having reviewed the world premiere of this production at Theatreworks in St Kilda in 2011, it was a complete delight to see how the show has blossomed. Apart from some initial confusion about which was Denny and which John (perhaps a costuming revision would assist), the development of set and costumes, and modifications to the script, including replacing a reprise of California Dreaming with Safe in my Garden, acknowledges the journey we have taken together.
Let your hair down, pull out the crocheted vest, and be sure to wear some flowers in your hair to look the part. Magnormos, and director Aaron Joyner in particular, are to be congratulated on producing such a well-balanced and impressive show. Bravo!
Lucy Graham
Earlier Coverage
Interview with Producer Margaret Fisk.