By Steve Rodgers. A co-production of Belvoir Theatre, Force Majeure & La Boite. La Boite (Qld). 16-27 April 2013
This extraordinary comedy is entertaining, thought-provoking theatre.
The title suggests nothing of the sentient depths depicted. All senses are explored to produce sensuality and eroticism. Then there is the delicate interface of two quite different cultures, which results in the climax, and generates much of the laughter.
Elma (Kate Box) and her younger sister, Nancy (Emma Jackson) are fine examples of Aussies doing it tough. They were brought up roughly by an amoral mother who took serial lovers, at least one of whom had his way with young Nancy. She left without a word shortly after for seventeen years. Now returned, she is helping her sister run the café/takeaway joint on the highway at the edge of town.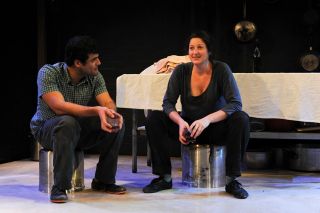 They reminisce and argue, but the sisterly dependence is obvious. Then a Turkish tourist, Hakan (Fayssal Bazzi) turns up out of the blue looking for casual work.
With charm, wit and oozing sex appeal he talks his way into joining their business. It expands to a restaurant and enjoys brief success.
Direction by playwright, Steve Rodgers, and artistic director of Force Majeure, Kate Champion, is brilliant. The latter's control of movement and physical interaction provides the sensory aspects and complements Rogers' words. Stu Spence devised projections on the bottoms of the multitude of hanging industrial pots and pans (Anna Tregloan's design) as well as on other unexpected places.
This Food is a feast of sensations.
Jay McKee
Images: (top) Kate Box & Emma Jackson and (lower) Fayssal Bazzi & Kate Box. Photographer: Heidrun Lohr.