Book and lyrics by Dean Pitchford. Music by Tom Snow (and Sammy Hagar, Kenny Loggins, Jim Steinman, Eric Carmen). Directed by Jordan Barr. OCPAC Theatre. Carey Baptist Grammar School, Kew. 13th – 20th September, 2015.
Some terrific choreography, strong singing, excellent casting and lots of energy lift OCPAC'S production of Footloose to a standard far higher than that of the actual show itself, and make for a thoroughly enjoyable night's entertainment.
Those who remember and love the original Kevin Bacon movie will probably be surprised that it's a musical (especially one without a fully integrated score)….since it was an edgy film about being an outsider and needing to belong….even when you're part of a family – or a community. The edge has gone, and there are too many superfluous songs (what madness sees the best known most energetic song OPENING the show….leaving nowhere to go except downhill dynamically?). But OCPAC works with the material at hand and give it enough enthusiasm to take us all along for the ride.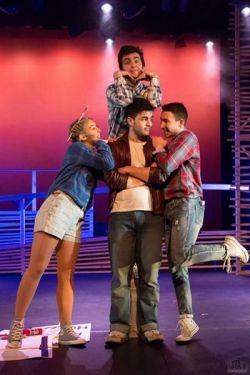 Casting is excellent and there is talent galore on the stage. Shannen Alyce is a marvellous Ariel. She's a WAAPA graduate and it shows. A true triple threat, she's a great singer/dancer with real acting ability and a strong command of the stage. The only quibble for me is that she's a very provocative and sensual performer, yet she looks incredibly young (about 15, though she is obviously older) – the overt sexuality was surprising, but no more surprising than the fact that Ariel is now the edgiest character in the show, with a seemingly appalling taste in boyfriends. Nowhere do we see the sad "Daddy's little girl" looking for her father's approval and that shifts the character's arc and journey. Nevertheless, expect great things from Shannen….she truly is the real deal.
Joseph Spanti (Ren) looks a million bucks in the Kevin Bacon role. He has charm, a great smile, a strong singing voice, and some terrific dance moves. He does, however, lack the edgy bad boy appeal one expects from the role. He's altogether too nice, with no dark broodiness waiting to explode, and that does detract from the underlying tension needed.
Warren Logan is terrific as Willard with an easy and natural comic presence. Paired with the multi talented Adriana Tascone (what stunning vocals!) the pair are a sheer delight together.
Geordie Worland brings his considerable skills and experience to the role of Reverend Moore, including his rich voice, but it would be nice to see at least one scene where he didn't have his hands on his hips, but rather something more nuanced in "hand acting". As his wife Vi, Elise Moorhouse gives a nicely judged performance, with some lovely singing, of a woman who loves her man even when she knows he is wrong. Of the original songs, "Somebody's Eyes" is by far the strongest and the three part harmonies are very impressive, along with some terrific staging.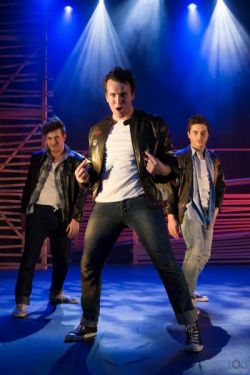 The rest of the cast are all excellent – no weaknesses at all – and special bouquets to Choreographer Remy Noonan, her work is stunning. Mention also of one of the dancers, Benito Veneziano, whose fabulous style and stage presence managed to pull focus in all the dance numbers.
Jordan Barr's direction works a treat for the most part, and she creates some lovely visual vignettes, inventing little back stories and relationships in her early blocking. What she has missed though is the necessary edgy subtext, the feeling that Ren will either bring peace or disaster to the little town.
The set, by Thomas Fellowes, is the biggest letdown. It's unimaginative and barely more than functional. I understand the need to maximise the floor space for the dance numbers, but here's a show where some projection on the backdrop would have worked wonders – especially in the scene by the railway where Ren comments on the graffiti which is actually Ariel's poetry. The show's main love ballad – "Almost Paradise" (By Eric Carmen and Dean Pitchford) – is sung sitting down, as far upstage as possible with not even a star cloth, just a vast expanse of nothing, behind them. That particular number really sums up the inadequacies of the design. Rosie Byth's musical direction of a small but skilled band is impeccable throughout and Peter Amesbury and Marcello Lo Ricco do their usual impressive expert job with lighting and sound respectively.
Stage Whispers doesn't give star ratings…..if we did I'd award 4 to the production, but only 2 for the actual show.
You only have this week to catch this engaging production, and I promise you won't be sorry, and I defy you to leave the theatre without singing the title song.
Coral Drouyn
Photographer: Benjamin Fon