By Tom Holloway. The Stirling Players. Stirling Community Theatre (SA). February 17-March 4, 2017
Tom Holloway is an Australian playwright who is very popular with directors at present. With such magnificent contemporary dramas as Forget Me Not, one can understand why. Based on real and shameful occurrences in the past, it is a touching and powerful depiction of how one person's profoundly traumatic experience can impact a family for generations.
Sixty-year-old Gerry lives in Australia and had a tough and abusive childhood working on remote farms when he was a Ward of the State. He has always been told he is an orphan. In fact, he'd been removed as a baby from his young single mother in Liverpool, England and shipped to Australia, as actually occurred in real life with many thousands of children from 1945-1968. Now Gerry's daughter is trying to straighten out her damaged and abusive alcoholic of a father, so forces him to meet with a social worker to reveal his true family history. At the same time, his eighty-year-old mother in Liverpool hopes to find Gerry and has never given up hope that one day he'll come home to her.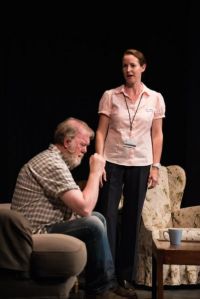 Tony Busch gives a towering performance as Gerry. His interpretation of an alcoholic, damaged by the well-meaning yet ultimately destructive decisions of others, and now acting abusively himself, is totally authentic and utterly absorbing. His whole persona, from the flushed face, beer belly, wild beard and inherent anger is very real. Bravo.
In a very difficult role, Alicia Zorkovic embodies Gerry's daughter Sally, an exhausted young woman not only dealing with the recent death of her mother (Gerry's estranged and formerly battered wife), but also with her love/hate feelings towards her father. Sally is trying to drag this mistrusting, deeply angry and almost broken man kicking and screaming onto a different path in life. This is a very fine performance by Zorkovic.
Angela Short plays Gerry's eighty-year-old Liverpudlian mother Mary and has the Liverpool accent down pat. She didn't quite convince me her character is eighty, though, and at times, it is also difficult to hear her, a sentiment repeated to me by others in the audience. Her performance is very good, but it could be magnificent if lifted a little in intensity, such is the depth given to the character in the script. Mary would be tentative to start with, yes, but I kept waiting for more passion at times from a woman who has been longing to find her son all her life. It came in the 'present reality' oxygen cylinder scene in the second act, and was excellent, but this scene was short-lived.
Aaron McDonald is very good as Mark, the social worker who draws the past and the present together in order to reunite Gerry and Mary.
Megan Dansie's direction of this fine Stirling Players production keeps the action moving, even though the complicated storyline takes a while to initially achieve impetus.
The set is fairly minimalist, but clever in its denotation of different settings. Costumes are excellent.
One comes away from Forget Me Not feeling privileged to have witnessed this play and hoping that Gerry can somehow ultimately tame the demons that have beset him all his life through no fault of his own. We must surely have the same wish for all such real-world sufferers and their families, too.
Don't miss experiencing this superb drama.
Review by Lesley Reed