By Nick Choo. Directed by Justin Crossley. Hand in Hand Theatre. FringeWorld. The Laneway Lounge, Perth WA. 24-28 Jan 2017
Malaysian composer Nick Choo makes his FringeWorld debut with this classy little show featuring four very short musicals in concert form.
Accompanied by the personable Nick Choo himself, who gives a little background to each piece, extra musical depth is added by Emily Gelineu on violin.
The four pieces are quite varied. The first follows the story of a little girl lost and expands to look at children lost in a wider context. The second, which Mr Choo describes as his favourite, is 'Dreaming Outside the Box' a beautifully drawn love story of sorts – between two Jack in the Box toys.
'Cartography of a Relationship' tells the story of a romance from a unique perspective and although set in Malaysia has universal appeal. The final musical, written especially for this season, is titled 'Waiting Womb' with the characters not yet born – a story of both hope and sadness.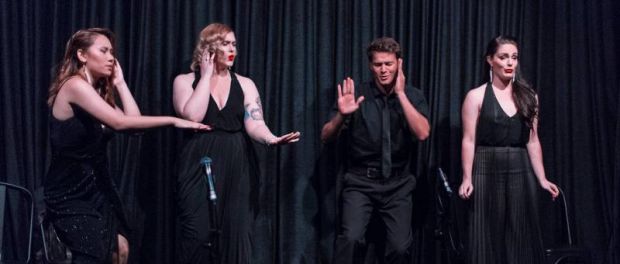 Four performers bring these stories to life, creating characters and relationships with believability, using minimal props and no sets. All sing beautifully and work together with style and grace. Andrew Koshan and Kim Moore were especially impressive as separated soul-mates Jack and Jackie, Sophie Braham led 'Cartography of Relationship' with style and wry humour, while Deirdre Khoo steals the scene and win hearts in the final story.
This classy little show has lovely warmth and tells four charming little stories. Four in Fifty is a wonderful FringeWorld choice and a delight to experience.
Kimberley Shaw
Photographer: Jamie Breen