The Farm, in collaboration with Co3 Australia. Directed by Gavin Webber and Grayson Millwood. Heath Ledger Theatre, State Theatre Centre of Western Australia. April 11-15, 2018
Frank Enstein is a thoroughly engaging, beautiful piece of theatre. Contemporary dance with a strong, well constructed story, about the struggle to fit in, and accepting yourself.
In this fresh take on the classic Frankenstein story, Frank is a lonely teenager who "wants to make his imaginary friends real". Living with a physical impairment (as does the actor who plays him) he creates monsters to fulfil his desire to be normal and be accepted by others".
Frank is played with brilliance and depth by guest artist William Rees (16), such a perfect fit for the role, that had I not read otherwise, I would assume that the role had been written for him. This high school student from Canberra is an excellent actor who also moves well.
Frank's love interest of sorts, the other 'human' character, is beautifully created by 15 year old Luci Young, a member of Co3's Act-Belong-Commit Co: Youth Ensemble and Elite Training Squad Program. Her Liz is kooky and awkward, but eminently likeable - a very strong performance from a talented actor/dancer.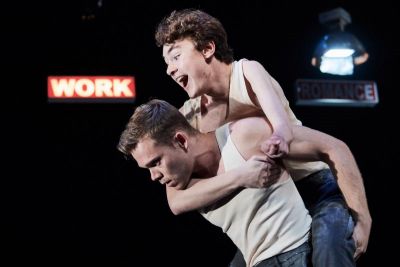 The monsters created by Frank are superbly created by Andrew Searle (guest artist) and Co 3 Australia artists Zachary Lopez and Talitha Maslin. The creatures are distinct and interesting, their dance work is stunning and they perform contortionistic feats with seeming ease.
Vilma Matilla's costume and set design has a sense of whimsy, with a story-book air - a large, well labelled laboratory at the centre of idealistic parkland.
Mark Howett provides a lighting design with bold choices. James Brown, composer and sound designer, gives us music that varies from the familiar to the absurd, with a soundtrack that is fun and catchy.
Frank Enstein is a captivating piece of dance theatre that is a wonderful blend of good storytelling and contemporary dance. Moving and meaningful but also capable of producing floods of giggles from tiny audience members, it is theatre with much merit and broad appeal.
Kimberley Shaw
Photographer: Stefan Gosatti