By Mary Shelley, adapted by Brenna Lee-Cooney. Fractal Theatre. Brisbane Arts Theatre. 3 to 18 May, 2013.
Everyone has heard of Frankenstein but few know the story. Here is your opportunity!
Fractal Theatre's version attempts to perform the original so you can understand Mary Shelley's rather naïve novel, now a literary classic. Fractal also uses an amazingly versatile stage design that adds to the horror of the story. Their cast features some of Queensland's top actors to narrate the story. That alone justifies your visit.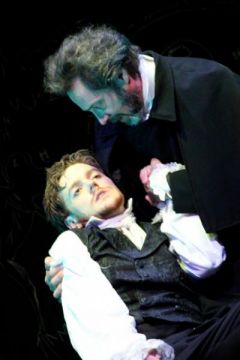 Sadly however, the novel is a somewhat creaky first story from the inspired author, Mary Shelley. Playwright/director/designer Brenna Lee-Cooney tried too hard to portray every character in her book, many of whom are minor contributors to the plot. The Ship's Captain, Professor Krempe, the Irish couple and the cottagers, could all have been cropped to provide a more direct storyline here.
Cameron Hurry achieved a brilliant, repulsive yet somehow vulnerable Creature. Andrew Lowe played his creator, Victor Frankenstein, with guilt and angst we could all understand. Johancee Theron and Zoe de Plavitz each coped well with their multiple characters, but the former's tortured Justine and the latter's Elizabeth were memorable. Thomas Yaxley managed, with costume changes, to create distinctive characters as Victor's brother Ernest and as his friend and confidante, Henry Clerval. One of Brisbane's favourite actors, Eugene Gilfedder, impressed as Victor's father but was simply overloaded with four other characters. Young Archie Horneman-Wren (Victor's little brother) showed promise in his brief appearance.
It's long and sometimes tedious, but well worth a visit.
Jay McKee
Images: Zoe de Plevitz (Corpse Bride) and Cameron Hurry (the Creature/Monster) & Eugene Gilfedder (the Captain) and Andrew Lowe (the dying Frankenstein). Photographer: Geoff Squires.