By Nick Dear. Adelaide Repertory Theatre. Arts Theatre – 5-14 April, 2018
Nick Dear's 2011 adaptation of Mary Wollstonecraft Shelley's Frankenstein is a brilliant inversion of the original novel. For a start, the dramatic narrative is told from the Monster's point of view. Victor Frankenstein's sin is not the creation but rather his abandonment of the Monster; it is the drama of 'nurture' (or lack of) not 'nature' that is major theme of the play.
Stylistically, the play is quite complicated, being part gothic melodrama, part naturalism, and part philosophical debate. It has an epic sweep, but most of the scenes are intimate two-handers. The production by the Adelaide Repertory Theatre, directed by Kerrin White, for the most part is relatively successful in navigating the audience through these different genres, with an emphasis on the melodrama. The story is told clearly and is always engaging. Nonetheless, this production is amateur theatre at its very best as well as its worst.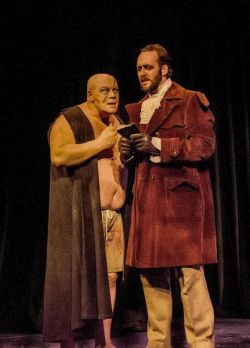 The negative side begins with the Arts Theatre itself. An old proscenium letter box stage that seems, from the various productions I have seen there, to encourage the use of clunky painted scenery that is laboriously trucked in and out, holding up the pace of the story-telling, and is, for the most part, whilst nicely painted, completely unnecessary. This affects the staging and lighting, as well as the acting, in a negative way. What is far more interesting and effective, however, is the excellent use of the upstage screen projections and animations, particularly those involved with Frankenstein's murder of the Monster's newly created bride.
The melodramatic style of acting is an understandable choice considering the nature of this famous gothic story. Unfortunately, it leads to a lot of 'sincere' acting with generalized emotional washes, strained voices, lots of shouting, and tense bodies. For the most part, the technical acting demands of the play have defeated the cast – with one major exception.
Steve Parker is absolutely terrific as the Monster in all areas – physically, vocally, emotionally and psychologically. He is consistently dynamically engaged and engaging. The Monster is an extremely challenging role and Mr. Parker completely rises to the challenge – a marvelous triumph.
It was a risk to produce such a challenging play, for which I thoroughly applaud all involved. Despite my reservations about some of the staging, scenery and acting, nonetheless it is successful, primarily because the play itself is an excellent adaptation of Frankenstein, and also because Steve Parker's performance as the Monster is wonderful.
Tony Knight
Photographer: Norman Caddick