Concept by Libby Klysz. The Blue Room Theatre, Perth, WA. 13 Nov - 1 Dec, 2018
Frankie's is a 15 part serial production, with each performance being one night in the lives of staff and regulars at Frankie's a (fictional) bar in Northbridge. Each performance is completely improvised, including improvised music. The most important element to remember is that your experience WILL vary, with different combinations of performers and of course a different story each evening.
The Blue Room's Theatre is transformed very convincingly into a bar. The performance is played in the round and patrons can access the counter to purchase drinks during the performance. There is no lockout and attendees are welcome to wander in late and come and go at leisure. This is very inclusive and immersive theatre.
On the evening I attended, the cast included core ensemble performers, bar staff played by Shane Adamczak and Libby Klysz and regular patrons played by St John Crowcher and Daniel Buckle. Guest actor Tom Stokes played a customer who had lost an urn containing the ashes of his grandmother as the bar staff entered the bar in competitions to name both the Best and the Worst Bar in Perth.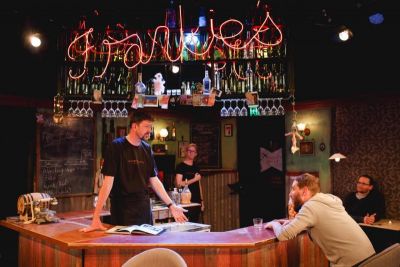 The performance is punctuated by improvised musical performances. I saw core musician Robert Woods on keyboard, working with guest singer Charlotte Otton and guest double bassist Djuna Lee, who worked well together in picking up the themes of the action.
Patrons attending on other evenings may see other performers, with artists over the three weeks including "regular performers" Esther Longhurst, Sam Longley, Tegan Mulvaney, Alwyn Nixon and Tegan Mulvaney and "guest artists" Nicola Bartlett, Chris bedding, Tomas Ford, 'Ofa Futo, Andrea Gibbs, Paul Grabovac, Libby Hammer, Tim How, Chris Isaacs, Joe Lui, Mathas, Gibson Nolte, and Mararo Wangai - an impressive and varied line-up.
I imagine that Frankie's will attract many repeat customers throughout its run, an interesting concept, with solid improvisors and a fun feel. If by chance things are ever not up to scratch, the 8pm finish time leaves you plenty of time to find a dive bar of your own to cheer yourself up.
Kimberley Shaw
Photographer: Daniel James Grant