By Mark St. Germain. Directed by Chris Hamley. Hamley Productions. Backspace, Theatre Royal, Hobart. 26 August – 3 September 2016
Mark St. Germain's play Freud's Last Session is a speculative what-if – what would happen if Sigmund Freud and C.S. Lewis, two of the greatest minds of last century, got together to discuss – everything?
Freud's Last Session, the inaugural production by Hamley Productions, directed by veteran director/actor/writer Robert Jarman had an experienced cast and crew of well-matched actors: Chris Hamley (C.S. Lewis) and Michael Edgar (Freud).
Set in 1939, as Hitler is rising in power, England is on the brink of declaring war on Germany. On the day war is declared Freud and Lewis "met" and clashed on the big issues – love, sex, the existence of god, the meaning of life, suicide. As far as anyone knows, Freud and Lewis never met. The believability of the premise was set up with a replica Freud study, perfectly period, with comfortable furnishings and a discreetly stable, academic look of tweedy respectability. Attention to detail of props, set and lighting was the necessary background to the action. Two actors talking may not seem like action, but the progression of ideas was fast and intense, and focused and absorbed the audience throughout.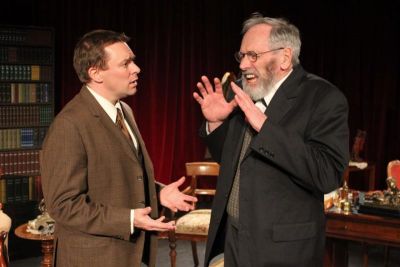 Highlights included excellent diction and voice production, and the contrast between the accents, emphasising the differences of opinions and backgrounds. The lack of technology of the period (the only communication being the telephone and the BBC Radio broadcast) highlighted the urgency and isolation that Britain was experiencing.
The writer and the actors show us that it's possible to have opposing ideas, and yet still respect the other person's point of view. We speculate whether the strength and determination of Freud's character can be influenced, even slightly, by the comments, wisdom and beliefs of Lewis, as happens in the last moments of the play.
The seventy-or-so-minute one-act play has a huge range of ideas, on many levels – ideas that keep you awake for hours, pondering what you think and feel and how you react to the discussion. In this generation of short-handed notions and shallow propositions, the play was and is timely and necessary. Beautifully engaging theatre!
Merlene Abbott