By Joanna Murray-Smith. Directed by Andrew Upton. Sydney Theatre Company. April 19 - June 8, 2013.
Fury is a play of ideas which entertains and confounds its audience.
Sarah Peirse plays Alice, an acclaimed Neurologist, being interviewed by a student journalist about her latest award. She drops many gems, including the advice that when angry it's wise not to respond for the first five minutes, but laments that in that time the most exciting words come to mind.
Her husband Patrick, played by Robert Menzies, is a firebrand novelist. He laments that the only literary groupies he attracts look like Susan Boyle.
One idea which Joanna Murray-Smith plays with is how we manage our instinctive desire to shape our children and our children's refusal to oblige.
Alice and Patrick's son Joe, played deliciously by Harry Greenwood, commits an act of vandalism and infuriates his parents by rejecting all their excuses for his behaviour. Alice can't accept that he did it because he wanted to.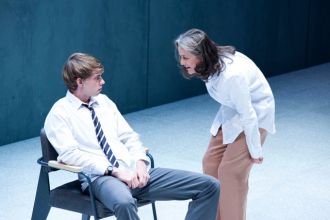 The sharpness of the dialogue is bounced off the stark modernist set. It was made of a 'real terrazzo floor', which is marble set in a tinted concrete honed to a super shiny finish. It was a little over the top but succeeded in its aim of heightening the psychological drama being explored.
The drama, which all takes place in one act – lasting one hour and three quarters, takes a fascinating twist when Alice's own indiscretions as a youth are revealed.
An interval would have helped digest the turn of events more readily.
The minor characters in the play were easiest to warm to. Tahki Saul as the teacher with the awkward news to reveal, Geraldine Hakewill as the precocious journalist Rebecca, and the central couple's friends Yure Covich as Bob and Claire Jones as Annie had moments to shine or surprise.
The consensus from the audience afterwards was that Fury is a like a diamond which needs a little more polishing.
David Spicer
Images: (top) Sarah Peirse, Robert Menzies and Geraldine Hakewill and (lower) Harry Greenwood and Sarah Peirse, in Sydney Theatre Company's Fury. Photographer: Lisa Tomasetti.