Written and performed by Maude Davey. Director: Ingrid Voorendt. La Mama Theatre, Carlton (Vic). September 1 – 11, 2011
This savage and seductive one-woman play written and performed by Maude Davey (whose recent credits include Summer Heights High, and The Burlesque Hour) challenges the audience to compare one life with another, and decide 'who's worth more?'
Davey presents us with one woman, whose life consists of taking pills inside the bare walls of a cell or laboratory in order for her eggs to be harvested for medical purposes. Her contributions to medical science may be saving countless lives but there is a disturbing ambiguity about this arrangement. She speaks to a camera mounted on the wall, but no one responds. Dead bodies are filtering into her dreams, and she's taken to talking to a rat that pokes its twitchy nose through cracks in the wall. Davey uses this sinister setting to explore questions about human – and animal – life, and what sort of price we put on it.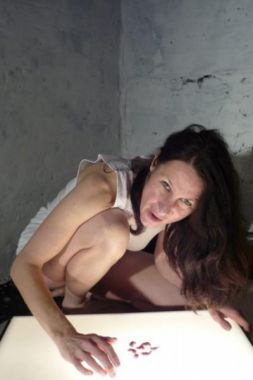 This woman is not your typical 'lab' rat or victim. Davey has a beguiling physicality, infusing the woman with a dangerous energy and cruel wit. She's barely dressed on stage but manages to make the audience feel more naked and exposed than she is. We start to question how safe we are alone with her in her room. She slips into a southern drawl, and describes the best way to kill a chicken in order to maximise its taste. In one of the most telling moments, she advises us to do our killing in the jungle, away from the eyes of the world. In this tense environment, even the most ordinary actions can have a terrible power, such as the scene when the woman cuts up a string of sausages, and places the raw, pink flesh side-by-side on a light box. Sausages have never looked so creepy.
This play aims for our stomach, but still manages to leave us feeling empathy for a woman facing life and death alone. Audiences will be left with all sorts of images and questions reverberating in their heads.
Sara Bannister
To keep up with the latest news and reviews at Stage Whispers, click here to like us on Facebook, or follow us on Twitter.