Adapted for the stage by Shake & Stir Theatre Company, Cremorne Theatre, QPAC. 6 – 23 January 2016.
They've done it again! Shake & Stir Theatre Company have delivered the goods with another very successful production - their brand new stage adaptation of Roald Dahl's George's Marvellous Medicine.
After spending a sizeable chunk of 2015 touring Australia with their version of Dahl's Revolting Rhymes & Dirty Beasts, the Shake & Stir team are back for another bite of the deliciously devilish Dahl cherry, and another crazy tale from the wacky mind of the world's number one storyteller.
What starts as another boring day for eight year old George turns out to be a day he'll never forget, when his parents once again leave him at home with his miserable old grandmother - "she's mean and she smells funny." She is always making George's life as difficult as possible, so he decides to mix up a batch of his own "special" medicine for her to take, with disastrous, yet hilarious results.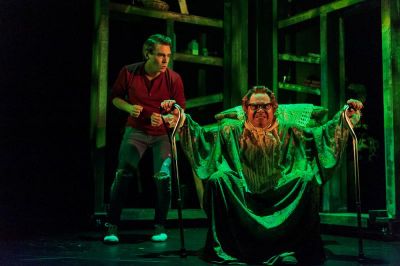 Director Ross Balbuziente has assembled the perfect cast of familiar faces from the S&S stable. Leon Cain revels in the role of the mean old grandmother you never had, and wouldn't want to have, while Nick Skubij shows us his versatility as an actor by playing the eight year old George. A dramatic change from his blood sucking role in the S&S production of Dracula earlier this year. As usual Bryan Proberts delivers a solid comic performance as the father, with Nelle Lee playing the mother as a comic fashionista who just misses the mark. This time round Johhny Balzubiente also makes his well earned S&S mainhouse debut, exuding enough onstage energy to power a small city.
One thing Shake & Stir definitely know how to do is keep the pace going. From the moment it starts, the audience (of all ages) is taken on an energetic rollercoaster ride of crazy antics with George and his dysfunctional family. It's amazing how many laughs you can squeeze into 60 minutes.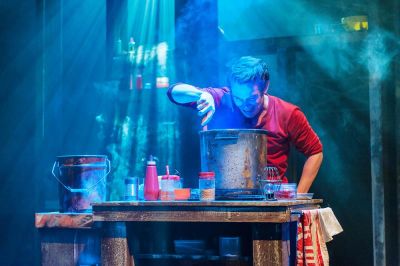 The design dream team kick goals with their artistic collaboration. Set and costume designer Josh McIntosh lets his creative genius run wild with a movable, multi layered set with more nooks and crannies than you can imagine. Lighting Designer Jason Glenwright lends his usual flair to the production creating some wonderful visual moments throughout the show. Guy Webster's original music underscores the mayhem brilliantly and his catchy songs add to the overall delight of the show.
To make any show a success you must have the right amount, of the right ingredients, and this show is a hit with a capital F - U - N. If you can get a seat, grab one! Because they have already extended the season and sold 12,000 tickets.
What a great start to the year for Shake & Stir as they celebrate a decade of bringing quality entertainment to audiences right around Australia.
Paul Dellit
Images by Dylan Evans