By Kieran Carroll. Type Faster Productions. King Street Theatre (was Newtown Theatre) (NSW). November 17 – 27, 2011.
The character of Les Robinson is interesting, but knowing that he was a real living breathing human being inhabiting Sydney not too long ago makes him absolutely fascinating.
Living in caves and shacks around Sydney's harbour foreshore, playing his gramophone, fishing for his supper out of the harbour and contributing to The Bulletin as a writer/journalist seems the stuff of fantasy but this man Les Robinson was real and why we don't know more about him is a travesty. I commend Kieran Carroll for writing this play and bringing Sir Les to our attention, for it is a worthy tale to be told and brilliantly told it is.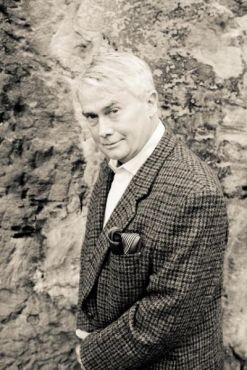 Mr Portus' return to the stage after 30 years was well worth the wait. His performance was at once delightful, strong, enigmatic and yet contained the under current of fragility of a misunderstood soul which so obviously was Les Robinson.
Mr Robinson was out of step with the era that he was born into and one wonders would he have fit in better today? Would his eccentricities been more accepted or would he still be relegated to fringe dweller like he had been before.
This story is beautifully told through performance, music from the 30's era and old film clips of Sydney at the time. It's captivating to see what our city of Sydney used to be like and quite frankly in some ways it appears to be very similar - the traffic seems just as bad back then somehow as it is today.
But running at around an hour, the play feels a little short. It left me wanting more which I guess is a good thing. But hopefully Mr Carroll will see to it that Les Robinson can have another incarnation on the stage so he is not forgotten once again.
Whitney Fitzsimmons
Images: Martin Portus as Les Robinson. Photographer: Cynthia Sciberras.
To keep up with the latest news and reviews at Stage Whispers, click here to like us on Facebook, or follow us on Twitter.