Written by Yasmine Reza. Translated by Christopher Hampton. Directed by Leonie Walsh. Presented by Sunnybank Theatre Group. Sunnybank Theatre, 6 – 21 April, 2018
If you're looking for an enjoyable, relatable, laugh-out-loud comedy, God of Carnage is not to be missed. As is often the case, the show's hilarious foundations begin with an excellent script. What Sunnybank Theatre did with that foundation simply amplified the excellence of the written words.
Upon arrival, the first thing that hit us was the outstanding attention to detail in the set design. The costuming was also very well chosen and together, they both spoke volumes about the characters before a single word was uttered.
The script centred around two couples whose children have been involved in an altercation in the local park. What began as polite discourse descended quickly into arguments, judgement and preaching. The characters were hilariously flawed and recognisable. On a superficial level it was an easy to digest, comedic work, but as many comedies do, it opened a discourse about deeper subjects: parenthood, responsibility, litigation, loyalty, complacency in marriage and corporate criminality to name a few.
The ensemble cast (Joanne and Brad Oliver as couple Veronica and Michael Novak, David Richardson and Carolyn Mills as Alan and Annette Raleigh respectively) worked well together. No one performer stood out above the rest and all were very well cast and did a great job with comic timing and believability.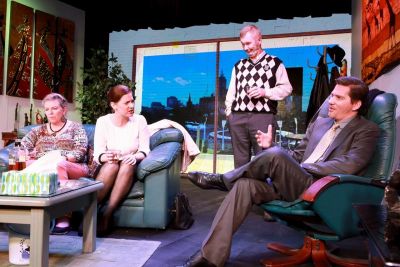 Preview night was an intimate affair with a small but very appreciative audience. As such, there were still a few little moments of hesitation or where the cast lacked confidence in their delivery or pacing. Once the actors experience a full house of people roaring with laughter they're sure to gain more conviction.
Direction by Leonie Walsh was of a professional standard, with beautifully balanced blocking. We particularly loved the idea of the best chair in the room being the domain of whichever character held the highest status at any given time. The special effects were very clever and worked to great comic effect. Lighting and sound were executed seamlessly.
It's worth mentioning that this was a very friendly, hospitable theatre environment. The audience was as delightful as the production itself. The theatre space was intimate, comfortable and felt like we were being enveloped in a loving embrace. Everyone from the staff at the bar to the actors on stage put a lot of effort into their jobs and their passion for the theatre was palpable. God of Carnage comes highly recommended for anyone who wants to see the highest standard of non-professional theatre in a wonderfully welcoming environment.
Kiesten McCauley
Photographer - Kaymar Kreations