Conceived by John-Michael Tebelak. Music and New Lyrics by Stephen Schwartz. Presented by Irregular Productions and Lydian Productions. Direction by Karen Sheldon. Music Direction by Martin Cheney. Choreography by Kerry-Lynne Hauber. The Parks Theatre, Angle Park, Adelaide. 11-19 May, 2018.
Born from the era that gave rise to hippie culture and its ideals of peace-and-love, Godspell spoke to a generation that were able to embrace what they saw as the positive, relatable aspects contained in the Gospels and their account of Jesus' teachings.
Does this particular stage musical spectacular still have the power to connect with modern audiences, whether believers or agnostics? Director Karen Sheldon, along with a remarkable ensemble cast, and a flawless backing band, prove beyond a doubt that Godspell is a treat for the ages (and for all ages), not to mention one of the best tickets in town right now.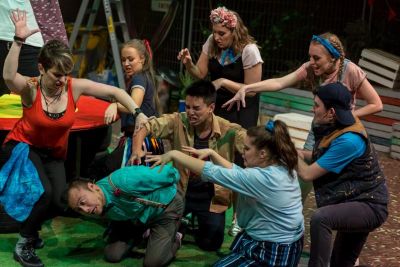 From the opening number, there is no mistaking this for anything other than a professional-standard performance, a show that sparkles. This is achieved far less through elaborate visuals (though David Lampard's scenic concept is imaginative, Chloe Hall has styled the cast colourfully, and Brad Sax's lighting design is supportive and attractive) than by the pure thrill of seeing a bunch of performers – none of whom really get any 'time off' out of the audience's view – applying their considerable talents and energies to a warm, lively, uplifting piece of theatre.
Leading man Mark Oates' take on the one-and-only Messiah is intriguing and engaging, matched by the charisma of Joshua Angeles as both Judas and John, the Baptist. Surrounding them are an ensemble that all deserve to be named: Harry Nguyen, Jemma Allen, Katie Packer, Maya Miller, Nick Munday, Ron Abelita, Ruby Pinkerton, & Scarlett Anthony; they demonstrate end-to-end that the songs of Stephen Schwartz and choreography by Kerry-Lynne Hauber are in the best of all possible hands.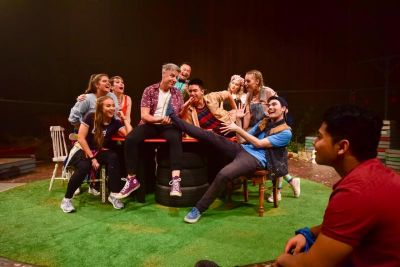 Conductor/keyboardist Martin Cheney leads a band comprised of guitarists Max Garcia-Underwood & Ned Halliday, bassist Ryan Mifsud, and drummer Max Ziliotto, who combine to make the music jump and soar and sooth in all the right ways and at all the right moments – aided in no small part by the audio design of Jamie Mensforth.
The level of stamina required to merely coast with competence through as demanding a piece as Godspell would likely have been a tremendous challenge in itself; the fact that this particular team have clearly cared enough to make it special means that you really shouldn't miss the chance to see just how good our musical theatre community in Adelaide can be.
Reviewer: Anthony Vawser
Photographer: Jason Abbott.