By Brooke Robinson. Griffin Theatre Company. SBW Stables Theatre. May 4 – June 16, 2018
Brooke Robinson shows an horrific slide to homelessness for a Sydney working woman in her 50s.
Sandra's voyage begins applying to shared households, visiting and seeking acceptance, desperate in interviews to match the whims of mostly crazed millennials.
Fayssal Bazzi and Kelly Paterniti play a range of revengeful brats, party-crazed dits, spoilt sloths or distracted young mums who interrogate and tease Sandra as a possible new housemate, before always showing her the door.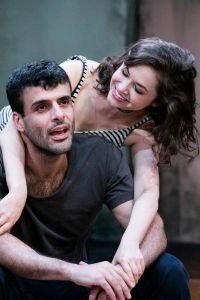 They're so relentlessly ghastly and self-pre-occupied that, with director Marion Potts, these scenes at least have considerable humour, even theatrical surrealism. Older audiences will be convinced that Sydney millennials are really this bad.
But it's Sandra's nightmare, and her growing pain soon strains all her pretences at layback cool. Tara Morice charts well this tense decay, as Sandra becomes unhinged, with the finale so bleak.
Oddly, Morice also embodies an irritating something, beyond Sandra's age and her obvious recovery from cancer, which has the same impact on us as on these householders. Robinson gives her little back story to help – beyond her topical situation – or build an empathy for Sandra or whatever her real reactions are to these millennial cartoons.
Yet the play punches hard and designer Melanie Liertz inventively houses it in a cheap home renovation site cluttered with pipes – somewhere disgorging the waste.
Martin Portus
Photographer: Brett Boardman