By Jonathan Biggins. Cremorne Theatre, Queensland Performing Arts Centre (QPAC), Brisbane. 9 to 13 July 2019
Written and performed by Jonathan Biggins, The Gospel According to Paul is a tour de force script brought to life in a performance of inspired wit but also political admiration. While Biggins gives a brilliant impersonation, he doesn't set out to look or sound exactly like Paul Keating; but he does conquer Keating's key attributes: the arrogance, the ego, and the political nous.
Today's plethora of TV comedy sketch shows have an easy target with our current crop of career politicians. It is much more challenging to find material in someone you admire. But then again, there were so many characters and events surrounding Keating's time in politics – from the early days in public service with mentor Jack Lang, to the dizzy heights at the top with Bob Hawke – I wonder how long Biggins took to whittle down the possible scenes to a finely honed and sculpted show. As Keating says: 'It was my finest hour! Well, why narrow it down?'
Keating's conversation with us covers his thoughts on Australia's political history, but also the current state of affairs, including the revolving-door prime ministerial policy that is pure comic gold. Naturally he has opinions on all the candidates: 'Malcolm Turnbull: the only man who could wear leather and make it look like vinyl' – that could be the kindest of the barbs! But this is no mere stand-up routine. The performance reminds us of a different time in politics, in communications and ideals. It was a time when politicians shaped policy and made difficult changes; when they weren't just a photo on the side of a bus – they drove the bus.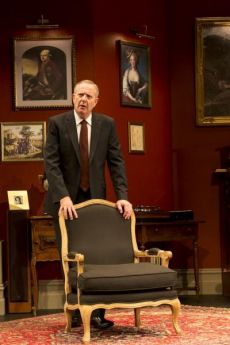 The cosy set and lighting design by Mark Thompson and Verity Hampson allow us to feel we are in the room with Keating, a conversation over tea rather than a show. The sitting room setting also captures Keathing's ego – we know he sees himself up there on the wall with the portraits of other great men in history. He also has props to enable the action: a record player and collection of vinyl albums reveal the importance of music in Keating's life (and let Biggins show his cabaret skills!); his desk and phone allow him to break up the action with questions from the general public and sharp comments on the state of the nation – including the slow demise of the ABC; and a slide projector lets him remind us of the characters in his and our political history.
Director Aarne Neeme keeps the pace upbeat to showcase a wonderfully snappy script so we are never bored. For example, to explain his fiscal policy in 'the recession we had to have' Keating breaks into song and dance to the tune of 'Putting on the Ritz'.
Presented by independent theatre and film producers Soft Tread Enterprises, if you haven't already grabbed a ticket or queued for returns, you'll have to travel to see The Gospel According to Paul – because the QPAC leg of the Australian tour is sold out. But it's worth planning a road trip to catch Biggins at his best, and the show is in Sydney from mid-July to early August.
Beth Keehn
Photographer: Brett Boardman