By William Zappa and Bob Charteris. Directed by Tim Riessen and Bob Charteris. Stirling Theatre, Innaloo (WA). Feb 8 - 23, 2019
Grace and Willpower is actually two plays combined to create an evening's entertainment. Both plays are by Australian authors and both are centred on strong, older women.
The Greening of Grace, by William Zappa, tells of widowed Grace who finds a passion for the environment after the loss of her husband and a violent sexual assault in her own home. An inspirational tale of self discovery, Stirling's production's success is due to a strong performance in the title role by Sharon Menzies, who is likeable and convincing. Great support from Elias Cuzens, who is excellent as passionate environmentalist grandson Tim, while Michael Balmer is believable as husband Derrick, and Michele Diston plays her biggest role to date as concerned daughter Jane.
Simply set and tidily presented, playwright William Zappa travelled from Sydney to attend the opening weekend.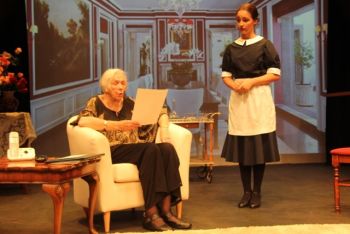 The playwright for Lady Willpower, Bob Charteris, was also in attendance, having directed the debut of this play. While it has up to the minute references, this show has the feel of an aristocratic post-war play, in structure and style. It centres around the will (read while she is still living) of wealthy matriarch Lady Catherine CadWalladr and explores some complex family relationships.
Ursula Johnson, an actress in her nineties, is outstanding as Lady CadWalladr, owning the stage in a commanding performance. Believable family relationships were portrayed by Owen Phillips, Claire Westheafer and Jane Sherwood as Lady CadWalladr's children, while the smaller but pivotal role of the maid Anna was expertly played by Rachael Coltrona.
Two interesting new shows that were very well received by the audience. Great to see mature women at the forefront of both productions.
Kimberley Shaw