By Alistair Powning and Michael Booth. Cathoderaytube. Tap Gallery. March 30 – April 21,2012
Most of us can think of or imagine the moment in life when you wake up and wonder. Why am I doing this job? What am I doing in this house? Why am I with this man or woman? This moment of awakening happens at anytime it may be called a 'mid-life crisis' a 'quarter-life crisis' an 'epiphany' or a 'spiritual experience'. Whatever it's called and whenever it happens it usually results in a philosophizing thought process around life and freedom. "The Great Lie of the Western World is that…we're all free" says Paige while she has a heated discussion with Fiona around what it really means to be free in a world that is full of societal expectations and constraints.
Powning and Booth, both actors in the play, have written this thoughtful and relevant new work. Perhaps this is why the acting seems so natural, as they are simply pouring out their own dialogue. The play is produced by Jocelyn Brewer with Cathoderaytube.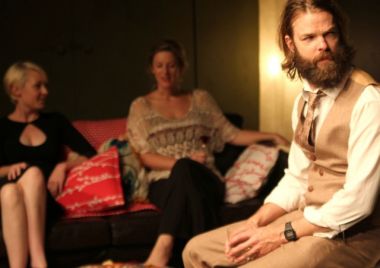 Fiona played by Kate Skinnerworks as a nurse and spends a fair amount of time looking tired, unwinding with a glass of wine and putting bandaids on her sore toes. Her husband Simon, Alistair Powning,works in the corporate world. Simon and Kate follow the path of millions around the western world. Go to school, get an education, work hard, have downtime, pay off the mortgage and keep on top of the bills. But at what price? At the price of their relationship? Health? Friendships? The real questions of life, time and freedom are all at the forefront in the play.
Fiona and Simon are struggling at the daily grind and they find themselves challenged, questioned and prodded by a relentless and doggedly determined friend Emerson played by Michael Booth. Emerson at first appears to be an old friend of Simon's who seems happy to couch surf, wander the streets of Newtown, drink wine and think about life, however by the end of the play you wonder whether Emerson was ever really there at all. He, along with his partner-in-crime Paige, seem to be almost godly, like apparitions who appear for a time and then once their work is done they're gone.
The four characters are really well executed by the actors and the whole dynamic of the play has a feeling of improvisation, almost as if you're watching this unravelling discovery happen to a couple of your friends in their own lounge room. The Tap Gallery space provides intimacy and the subject matter makes you think about life, society and all the pressing questions regarding freedom and societal norms and western pressures.
This is definitely worth a look if you enjoy investigating the world and paradigms around you.
Emma Bell