Queensland Symphony Orchestra. Conductor: Simone Young. Viola: Nils Monkemeyer. QSO. Concert Hall, QPAC. 20 July 2019.
Cheers and prolonged applause greeted Simone Young's return to the Queensland Symphony Orchestra in an eclectic but complementary program of classical music that featured Schubert's Great Symphony, Bartok's Viola Concerto and the Australian premiere of Brett Dean's Notturno inquieto. Young, dynamic on the podium, always manages to bring out the best of the QSO who respond to her with performances of warmth and weight and skilled musicianship.
Last night was no exception. Dean's Notturno inquieto, commissioned as a farewell to Simon Rattle after his tenure at the Berlin Philharmonic, captured the nocturnal moods of the night with viola cadenzas and woodwind arpeggios. A short piece, evocative and musically satisfying, the Berlin Philharmonic premiered it in 2018 with Rattle conducting. Dean, who spent 14-years in the Principal Viola chair, knows his territory and this work was a fitting tribute and celebration of Rattle's stormy but massively creative Berlin era.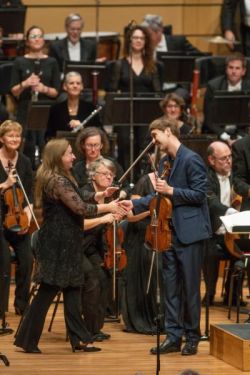 The viola was again front and centre stage when the instrument's current poster boy Nils Monkemeyer unleashed a virtuostic performance of Bartok's Viola Concerto. Written in America when Bartok and his wife were in poverty and he was ill, the work was incomplete at the time of his death. Completed by his student Tibor Serly from Bartok's original sketches, there has been much criticism since about Serly's reconstruction but it has not stopped it becoming one of Bartok's most celebrated and performed works since its premiere by the Boston Symphony in 1943.
It's a bold, sweeping and imaginative piece which begins with a sad theme played by solo cello against a striking accompaniment of timpani and follows with aggressive chromatic themes, muted trumpets and an earthy folk tune. Monkemeyer effortlessly moved between the calm and fury of it with proficient ease. He encored with one of Bach's unaccompanied baroque pieces, Sarabande in G Minor from Suite No 2 which he played flawlessly.
The last half of the program was Schubert's Great Symphony in C Major, a grand and meaty showpiece for the entire orchestra. From the clipped and focused strings in the opening theme, to the second movement's bright oboe against the buzzing cellos and basses, the Scherzo and its jaunty folk-dance panorama, to the fiendish finale it was music-making that had drama and theatricality courtesy of Young's authority. Her podium expertise was monumental and well deserving of her standing ovation!
Peter Pinne