Book and Lyrics by Gerome Ragni & James Rado. Music by Galt Macdermot. North Queensland Opera and Music Theatre, Townsville. Director: Brian Edmond. Choreographers: Kylie Ball & Rachel Cook. Vocal Director: Tony Woodhouse. Musical Director: Ryan Christoffersen. March 28 – 31.
A youthful cast made the most of the tribal love rock musical Hair during its season at Townsville's Civic Theatre. Two relatively "new to the musical stage" actors, Lachlan Dalby and Emily Edwards tackled the lead roles of Claude and Sheila with enthusiasm. More experienced young actors Adam Mullamphy as Berger, Kevin Wright as Woof, Katherine Shield as Jeanie and Jeremiah Pau as Hud all paraded their talents to much acclaim.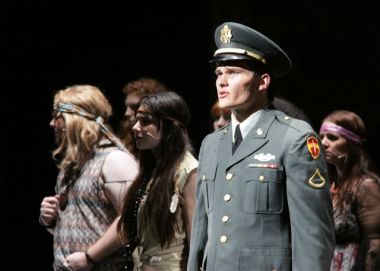 Director Brian Edmond kept the action nice and tight without any unnecessary frills (except on the costumes of course) and the result was most satisfying to this reviewer who fell in love with the musical during its original Australian incarnation in the very early 70s.
The orchestra was small and tight, the choreography effective, the set realistic and the chorus work impeccable. The major hit numbers "Aquarius", "Good Morning Starshine" and "Hair" did not overshadow some of the other excellent, lesser known songs.
With a cast that contained hardly anyone over the age of 30 I am sure the future of musical theatre in Townsville is in good hands.
Ray Dickson
Images: photobase nq pics