By Brett Dean (musical score) and Matthew Jocelyn (libretto). A Glyndebourne Festival Opera Production. Adelaide Festival 2018. Festival Theatre, Adelaide. March 2 - 6, 2018
Hamlet (the opera) is one of the jewels of the Adelaide Festival of Arts. It is a juggernaut, featuring an orchestra of 70, a cast of approximately 60 and a set that is monumental.
The Festival Theatre was packed to the rafters on the first night of this long-awaited opera and anticipation was at a peak. The audience was not disappointed.
The real heroes of this opera are Shakespeare, Brett Dean (musical score) and Matthew Jocelyn (libretto).
It is no mean feat to set one of Bard's most famous plays to music. The play is famously long and full of some of Shakespeare's best-known speeches. This production successfully condenses this masterpiece of drama into 2 hours and 45 minutes while keeping its integrity and storyline.
Hamlet is sung in English. However, there are still surtitles, a very wise decision. Shakespeare's words are not at all easy for the average theatregoer to understand, let alone when sung. The surtitles ensure that all the lyrics are clear.
Brett Dean's score may not appeal to traditional opera lovers. It breaks many traditions, with rich orchestration punctuated with electronic sounds and a sound scape that swoops around the theatre, enveloping us with lush sound. The emphasis is on drama, with equal time being given to recitative and aria. You will not come away humming the tunes, but that is not the idea; it is the drama and each character's investment in that drama that is highlighted.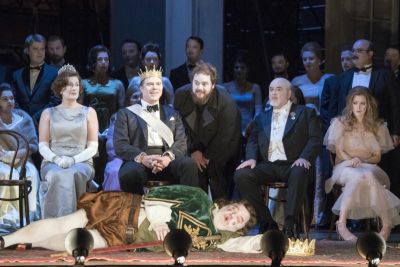 Neil Armfield (Director) has accomplished a feat rarely seen in opera. His performers can really act rather than just stand and sing. They deliver well-drawn, complex characters in physically demanding performances.
Add to this Ralph Myers' elegant and functional set – especially the graveyard scene, accomplished by lowering the ceiling of the set to the stage floor, with Alice Babidge's sophisticated costumes and Jon Clark's moody lighting supplementing the action.
Of course, there is no opera without performers. There is a large principal cast, too many to mention here, so I will highlight the audience favourites on the night.
Allan Clayton's Hamlet was mesmerising. Hardly off the stage for the whole opera, he runs the gamut of emotions seamlessly and gives us insight into madness with a voice that swoops, soars and whispers. It would have given his character more depth if we could see his descent into madness rather than him being mad from the beginning.
Rod Gilfry uses his rich bass voice to advantage playing the villain of the opera (he was booed during the opening night curtain calls). He gives us a glimpse into a man who is tortured and power driven.
Lorina Gore gives a masterful performance as Hamlet's love Ophelia. Her mad scene at the start of Act 2 was one of the finest moments I have seen in opera.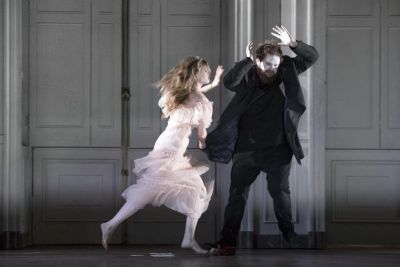 Cheryl Barker's Queen Gertrude is heart rending, a woman having to choose between power and her son. She elicits real sympathy from the audience.
SA Opera favourite Douglas McNicol's Horatio has just the right amount of friend/mentor to Hamlet, together with his powerful voice; a solid performance.
Rosencrantz (Rupert Enticknap) and Gildenstern (Christopher Lowrey) charm the audience using their counter tenor ranges and effeminate portrayals.
The State Opera chorus provides a powerful backing to the principal performances, on stage, off stage and from the boxes in the auditorium.
I had two reservations with this production. Firstly, the length of Act 1. Modern audiences are less able to concentrate for long periods and 1 hour and 45 minutes did seem to drag at times. Perhaps splitting this act into 2 parts would alleviate this.
Secondly, I found the overuse of the bentwood chairs tedious at times. They were constantly thrown, tipped over or used for odd purposes. Possibly a pernickety criticism, but I found it distracting.
Hamlet is an epic in every way and everyone involved in this production is to be congratulated. The overwhelming response from the audience at the conclusion of the opera justifies every dollar spent.
An intense experience.
Barry Hill
Photographer: Richard Hubert Smith