By The Danger Ensemble. Presented by The Danger Ensemble and Theatre Works. November 7 – 18, 2018
Vibrant, energetic, engaging and exhilarating, The Hamlet Apocalypse resonates strongly with a youthful audience. It is a visually stunning, adventurous, invigorating offering imbued with a generous spirit by Director/Designer Steven Mitchell Wright. However it is not without significant problems.
Intriguingly it opens with the actors introducing themselves, their characters and presenting a crystalized thought in relation to their work on the play.
What unfolds is the preparation for, and presentation of, a significantly modified production ofHamlet as time is limited and the world is about to end.
Costumes (Oscar Clarke and Steven Mitchell Wright) and Lighting (Ben Hughes) combine to emboss and ornament good-looking actors. The look of the whole is imaginative and evocative of Shakespeare's era in a sort of futuristic way. This, the constant movement, placement and some of the wacky antics of the performers, keeps the whole engaging and assumedly satisfying for those in the audience who are not particularly familiar with the narrative of this classic. And this is where the work is to be most commended.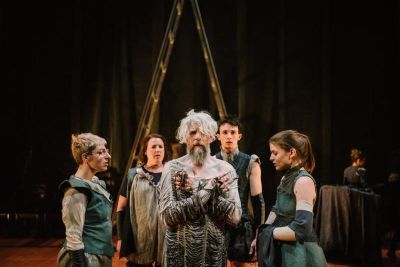 As the name suggests, The Hamlet Apocalypse becomes overwhelmingly shambolic - as all panic towards annihilation. This is partly due to the actors playing not only the characters, but also expressing aspects of their responses to the situation they find themselves in. This disrupting meta-data of the personal progressively becomes distracting to the point of being 'noise'. It had the effect of leaving me wishing this well oiled ensemble of mostly Suzuki trained actors would play the subtext with a contemporary sensibility and forego their own imagined responses to an apocalypse. How about just a straight abridged Hamlet?
Underpinning music (Dane Alexander) is, on a number of occasions, in conflict with the actor's words and rhythms. When the music is loud this conceit jars rather than enhances. This and the high decibels of the opening rock song and frequent bright flashes of light to mark scene changes or segmentations smack of 'Theatre of Cruelty'.
Some of the most significant dialogue from the text is satisfyingly highlighted yet some scenes are (disappointingly) missing.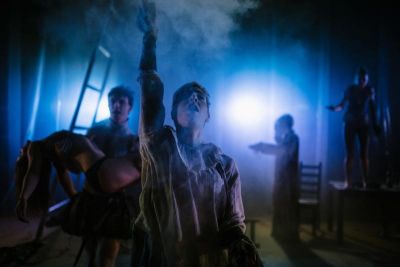 For many going to see a work by Shakespeare it is about interpretation and the potential to gain new or refreshed insights into his characters' motivations. In this distorted production there is some room for reinterpretation. Though on the whole it is too busy to be particularly elucidating.
Highly recommended as a fascinating romp in Avant-guard theatre making, and, as an introduction to the adventurous work of this incisive troupe as they settle into the Melbourne theatre scene.
Having said that, at the risk of being contentious, over all, I think Steven Mitchell Wright and Danger Ensemble are trying to do too much in this work. That possibly, as the development/rehearsal process has progressed (apparently over many years), what has become obsolete has not been discarded and shifts in social mores from ten years ago have not been fully taken into account. Lastly - not enough time has been taken with the present cast to adequately claim, absorb and refine the material.
No matter - I for one, will be quick to access a ticket to what they have in-store for us next - particularly if it comes from a 'fresh palate'.
Suzanne Sandow
Credits
Director/Designer – Steven Mitchell Wright
Lighting Designer – Ben Hughes
Composer and Sound Designer – Dane Alexander
Costume Co-Designer – Oscar Clark
Performed by:
Chris Beckey – self/Ghost/Guildenstern
Katrina Cornwell – self/Gertrude
Nicole Harvey – self/Ophelia
Thomas Hutchins – self/Claudius
Polly Sara – self/Polonius/Osric
Peta Ward – self/Laertes/Rosencrantz
Mitch Wood – self/Hamlet