By Melissa Reeves. Melbourne Theatre Company (Vic). Lawler Studio, Southbank Theatre. Director: Susie Dee. Set and Costume Designer: Andrew Bailey. Mandarin Coach: Melodie Yingxiu Shen. 5 – 22 September, 2012.
Forty-something Louise (Nell Feeney) is happily married (more-or-less), but has developed an infatuation with her young Chinese masseur, Lu (Gareth Yuen). After months of massages, sometimes two a day, Louise confides in her coffee companion Lilliana (Roz Hammond) that she wants to consummate her desire, and sets about getting closer to Lu.
Award-winning playwright Melissa Reeves has crafted a well-balanced and entertaining script, interweaving English and Mandarin dialogue, and highlighting cultural sensitivities and etiquette in both cultures.
Shoji screens are manipulated effortlessly into various configurations, creating a gentle aesthetic. Subtitles appearing on the screens are a wonderful device through which character and cultural dimensions are elevated.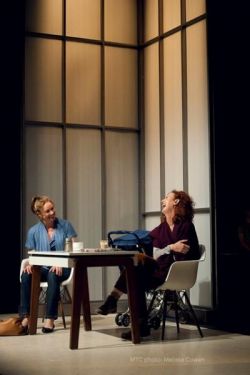 Of particular note is Feeney's lonely vulnerability, erratic desperation, and then self-assured composure. MTC first-timer Keith Brockett (Wen/Jun) deftly switches between characters with subtle mannerisms, and in another MTC debut, Gareth Yuen (Lu) demands the audience's sympathy as the much-desired masseur.
Roz Hammond and Fanny Hanusin (Jie) are radiantly compelling, and sometimes confronting, as the assertive female influences. Christopher Connelly (Alec/Dave), a late inclusion, assuredly commands the space.
Audiences with a political appetite will relish the many entertaining references to contemporary political and media identities in what is a expertly paced drama. Whether the ending is 'happy' is a matter for speculation. Happy Ending includes strong language, nudity, sexual themes and peanuts, and was well worth the effort on what was an ugly-weather night in Melbourne.
Lucy Graham
Images: (top) Fanny Hanusin (Jie) and Keith Brockett (Wen) & (lower) Nell Feeney (Lousie), Roz Hammond (Liliana). Photography: © Melissa Cowan
Teaser Video