By Noël Coward. Melbourne Theatre Company. Southbank Theatre, The Sumner. 23 September – 28 October 2017.
Noël Coward's Hay Fever is a play that has 'no plot and… few if any witty lines' – or so said the critics at the play's first production in 1925. And yet here it is, in yet another of its many revivals, often played by stellar casts, and including at least three versions for television.
In fact, there is a bit of a plot. Each member of the Bliss family has invited a guest – on a whim it seems - for the weekend to their country house in Berkshire – but without informing the rest of the family or their much put-upon housekeeper Clara (Marge Downey).
Judith Bliss (Marina Prior), the matriarch, an attention-deprived retired actress, has invited Sandy Tyrell (Drew Weston), an adoring, muscular, sporty-but-dim fan, considerably her junior. David Bliss (Kym Gyngell), patriarch and reclusive novelist, has invited Jackie Coryton (Alexandra Keddie), a naïve 'flapper', for reasons that become unclear to her and forgotten by David. Meanwhile, Sorel (Imogen Sage), the grown-up Bliss daughter, has invited an 'older man', Richard Greatham (Simon Gleeson), a stitched-up diplomat. Finally, Simon (Gareth Davies), the 'artistic' grown-up son, has invited an 'older woman', the vamp-ish, vampirish Myra Arundel (Monica Sayers).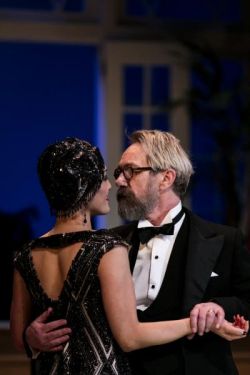 What eventuates, once all the characters are in place, is a matter of the Bliss family's complete self-absorption and propensity for 'drama' up against the bewildered incomprehension of their guests. Relationships are made and unmade in the most surprising ways, declarations of love are made only to be withdrawn – or forgotten – moments later. We might say, 'nothing happens' in the sense that nothing changes and so Hay Fever is like an elaborate farcical sit-com complete with doors and stairs and surprise reveals.
But it is peopled by members of the privileged class, to which Coward always aspired and into which he climbed – and stuck – at an early age. He observes them with an ironic and satiric, faintly jaundiced affection. We might ask, for instance, why Sorel and Simon are bundles of affectation with the attention span of gnats, and still idly at home with Mummy? Judith is clearly a drama queen both on and off the stage and if there is no drama she will create it – as melo-drama – but why is the family, even crusty David, so easily seduced into playing along? The fun, the enjoyment comes from the clash with people who are not like this (they have their own flaws) and are at first politely bemused, then distressed and end up exhausted.
The pleasure here comes from watching a splendid cast who know exactly what this is and what they are doing, pitching it at just the right level and tone. It's true that there are 'few if any witty lines', but the audience is laughing all the way because comedy is as much about timing as jokes and this cast has that down pat. Simon Gleeson milks laughter from his carapace of correctness and creates tension when he unwisely lets down his guard. Drew Weston demonstrates that it takes skill – and again, timing - to get laughs from being dumb – but obliging. Perhaps elegant Monica Sayers, however, could have been rather more 'vamp-ish' as we are led to believe she will be before she enters - more the predatory cougar who will have rather wet Simon for breakfast.
Marina Prior's persona is just naturally so sweet you might wonder how she holds sway over her family – and certain of the guests. Or is she just irresistible in her silliness that renders others helpless? Marg Downey, an experienced comedienne, is rather wasted as the housekeeper, but Coward is really not that interested in the character.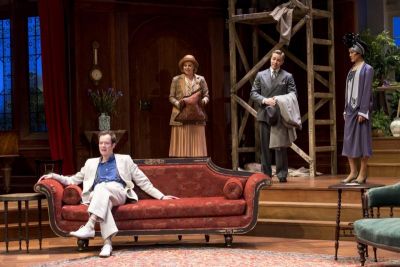 Lee Lewis' direction is smooth and detailed, making clever use of the expansive set. There is more to this show than verbal humour. The pace is beautifully judged and there are sight gags aplenty. The body language of the cast when they attempt to play a parlour game is a delight – Ms Keddie in particular here. Watch what happens to the piano – and what Paul Jackson does with his lighting - in Act Two when Ms Prior sings. Yes, she does sing. See the variety of ways that characters ascend the stairs. Watch the routine with the breakfast dishes and later with the suitcases in Act Three.
The set is the 'hall' of this country house, a naturalistic set per se, but designer Christina Smith puts the stairs and the requisite doorways in the right places and adds subtle details of a certain mismatch in the furniture, of piles of discarded books and clothing, and Simon's half-finished but awful paintings. After all, this is a family primarily interested in themselves and not the décor. No doubt Esther Marie Hayes has had fun with the costumes – not only right for period but for character too.
Coward, aged only twenty-five, allegedly wrote the play in three days, a sharp contrast to today's draft-after-draft agonising, workshopping and 'collaboration'. It would be easy to call it insubstantial fluff, shallow or even trivial. Coward's avowed aim was to entertain, but this play is not as shallow as it may look in its satire of solipsism, selfishness, indolence – and even cruelty. The sheer craft of keeping nine characters afloat and in balance can't be ignored either. It certainly does not deal with the troubles and injustices of the world, but, as a critic in the London Times wrote, it has 'no mission but to delight' and in the hands of this cast, this director and her team, it does. No doubt mounting Hay Fever is a calculated choice by the Melbourne Theatre Company, but it is a smart one.
Michael Brindley
Photographer: Brett Boardman.