By Laurence O'Keefe and Kevin Murphy, based on the film written by Daniel Waters. Hand in Hand Theatre. Directed by Claire Mosel-Crossley, Musical Direction by Krispin Maesalu. Nexus Theatre, Murdoch University, WA. July 20-22, 2017
Hand in Hand Theatre presented the cult musical Heathers to full houses, over a short season at Murdoch's Nexus Theatre.
First time director Claire Mosel-Crossley chose a very challenging show for her directorial debut, and is a director with much potential, who has created a stylised, polished production.
Andrew David's set is minimalist with clean lines, while Elie Hopwood's costume design pays homage to both the film from which the musical is derived and the iconic Broadway designs.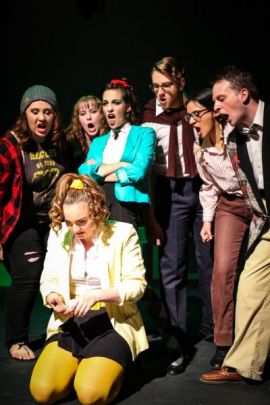 Cat Prez is a comfortable, highly competent leading lady in her 'dream role' Veronica Sawyer. Her improvisation skills are sharp and well honed (she handled a prop sailing into the audience with perfection) and her singing is top notch. Joshua Towns is excellent as the dark and dangerous JD, and the dup have top notch presence and team-work.
Kimberley Harris, Kiara Macri and Grace Whitney totally own the title roles, with nicely nuanced, gloriously 'very' performances, as Heather Chandler, Heather Duke and Heather McNamara.
Rebecca Dilley is very likeable and sympathetic as the unpopular Martha Dunnstock.
Self-centred jocks Ram Sweeney and Kurt Kelly are played with energy and swagger, by Sean Wcislo and Harry Broun, and make the most of their 'controversial' duet.
A well-drilled supporting cast work hard throughout, many playing multiple roles. Special mention to Alyssa Burton - creating two very strong characters and shining as teacher Ms Fleming.
Krispin Maesalu leads an impressive 6 piece band, visible on stage throughout.
Heathers was great fun and very well received by the full-house crowd. Well done to all involved.
Kimberley Shaw