By Laurence O'Keefe and Kevin Murphy. HAMA Productions. Fringe World. Directed by Olivia Collier, vocal direction by Veronica Bravo. Studio Underground, State Theatre Centre of WA, Perth, WA. Feb 6-9, 2020
HAMA Productions' Heathers played to full houses during its short Fringe World run, and it deserved its success, a well produced and tight show, with some strong performances.
Using the full depth of Studio Underground's stage, the show was played on an almost bare stage, usually using only rostra and lighting to set each scene. Costuming was "traditional", reflecting both the source film and the original Broadway production, with colour used very well.
The cast was led by Elaina O'Connor as Veronica, a high-school outcast who becomes an "it girl" when she teams up with the power clique Heathers. Elaina has great vocal power, and delivered a nicely nuanced performance, anchoring the show well. She worked well with Lloyd Hopkins, strong as the dark, brooding and secretly dangerous JD. Veronica's awkward bestie Martha is beautifully played by Sarah Boniface in a standout performance, with her performance of 'kindergarten boyfriend' a highlight.
Amy McCann is excellent as Heather Chandler, queen of the queen bees, in a performance that unnerved half the audience. Great teamwork from her offsiders Bella McSporran as Heather McNamara and Sarah Boniface as Heather Duke.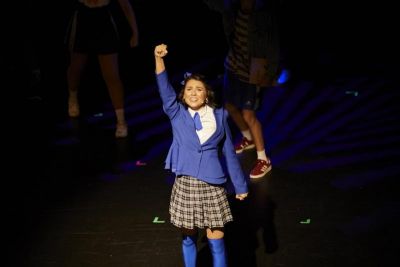 Bully Boys Ram and Kurt were very nicely portrayed by Nicholas Cruse and Ethan Churchill - ever so slightly overplayed - which worked well. The actors were clearly relishing their roles as villains, which made the audience enjoy the performances despite the characters' reprehensible behaviour.
The actors playing the adults have a very busy show, each playing multiple roles. Jesse James' portrayal of Veronica's mother was particularly memorable, while Genevieve Newman's clueless teacher/counsellor Ms Fleming was a delight. Jesse Watts and David Gray's interpretation of Ram and Kurt's dads and "My Dead Gay Son" were top notch.
The ensemble provided strong vocal backing, but also blended into the background when appropriate. They played a variety of supporting roles well and also moved the scenery smoothly and efficiently.
This was HAMA Productions at its strongest - a slick performance that allowed its cast to shine.
Kimberley Shaw