By Laurence O'Keefe and Kevin Murphy. Phoenix Ensemble (Beenleigh, Qld). Oct 13 – Nov 4, 2017.
Heathers: The Musical is the perfect 80s movie flashback! It's Pretty in Pink meets Breakfast Club with a side of Carrie to the beat of a Footloose soundtrack. And with its murders and suicides and dark moral ground, it doesn't come with an empowering take-home message safe for children.
Veronica Sawyer (Erika Naddei), a previously unpopular girl, makes her way into the coolest clique in high school — three girls all called Heather, who are known collectively as "The Heathers" and led by the coldest Heather of them all, Heather Chandler (Alanah Bebendorf). Veronica immediately shuns her best friend Martha (Aliya Booth), but when she begins a relationship with a (very) troubled young man (Liam Chapman), comes to realise The Heathers are even more cruel than she anticipated.
Alana Bebendorf was born to play Heather Chandler and her performance is a comedic masterclass — every arched eyebrow and snarky side-eye is executed perfectly. Not to be outdone by her two lackeys, Heather Duke (Gabby Diaz) and Heather McNamara (Jahla Black) – the other, OTHER Heathers are equally brilliant and together are a trio of total school and stage domination.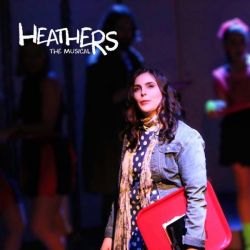 Ram (Mitchell Walsh) and Kurt (Tyler Stevens) are fantastic, proving again that it takes a smart actor to convincingly play a "dumb" character but also slipping easily between the bro-caricatures they are in life into the symbols of out gay pride they're (falsely) lauded for after their death. Aliyah Booth's Martha plays a dark undercurrent to her earnestness that explodes in her feature "Kindergarten Boyfriend", that's staged in a cutting, ironic way perfectly in keeping with the tone of the original.
In the role of Jason "J.D." Dean, Liam Chapman is a convincing antisocial brooder, and his singing voice gets an A for effort and execution. For what seems like his debut into the realm of Musical Theatre, Chapman does this character justice in finding empathy with the seemingly twisted mind of J.D and the intimacy with Veronica – the two had chemistry that is hard to deny. Erika Naddei is a down-to-earth, wise-cracking Veronica who, despite everything, you know will be a survivor long after high school is over.
Under the musical direction of Brady Watkins and choreography of Lauren Elizabeth Wormald, the songs steal focus. "Beautiful" and "Candy Store launch the show with big bouncy musical numbers. The lyrics have the naughty realism of high school angst. It's all dicks and skanks and mythic bitches dealing with peer pressure in vibrant 80s blazers and big hair (Costume Designer Darcy Morris & Justin Tubb-Hearne).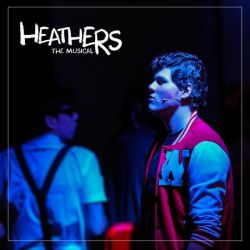 A minimalistic set is essential in this production. The highlight for the audience in this show will be the clever use of school lockers as entry/exit points to the stage and a creative revolving podium in the middle which accentuate the grand entrances of the Heather's. The set could have been a massive hindrance if not used quickly and correctly – it seems that practice really does make perfect as the show was so perfectly polished, it was as if they had been open for months already. What's the difference, you might ask? Well, instead of cringing every time a door flew open (just to see if they could shut it), I was constantly surprised and excited about who would come out next and where.
With the innovative choices of shows, Phoenix Ensemble have been choosing in recent seasons, they also impressively assemble an array of high calibre singers. And it's not that other theatre companies aren't bursting with talent, it's just that I often find myself scrambling during a Phoenix Ensemble intermission to determine who a performer is. They tend to cast less familiar yet first-class singers. Heathers continues this tradition under the direction of Phoenix Ensemble veteran Morgan Garrity, who has created a show that is the picture of perfection. It's brutal, profane, with no-holds-barred humour, and it occasionally pulls a heartbreaking truth out of the absurdity, making it the perfect Queensland Premiere within the walls of Phoenix Ensemble.
Mel Bobbermien