Music and lyrics by Lin-Manuel Miranda. Book by Quiara Alegría Hudes. Blue Saint Productions. Hayes Theatre Co, Potts Point, NSW. Mar 16 – Apr 15, 2018
As I walked out of the theatre, I wanted to tell everyone to see this vital, joyous musical, but unless you've already bought your ticket, you'll have to hope for a return season. All remaining performances sold out ahead of opening night.
As In The Heights raps, hip-hops and salsas its way across the stage, it's a world away from anything else that has sung and danced around the Hayes stage amongst the eclectic repertoire we've enjoyed there.
An earlier work from creator of Broadway mega-hit Hamilton, which had its genesis while Lin-Manuel Miranda was still a student, In The Heights won four 2008 Tony Awards, including Best Musical and Best Score, and a Grammy for Best Show Album.
Through its street music, and the ethnic music of this Hispanic-American community in Upper Manhattan's Washington Heights, character and truthful humanity emerges in fresh, organic style. Occasionally a big ballad or love duet strays into more conventional Broadway territory, but generally it's only the book scenes which feel a bit too predictable at times.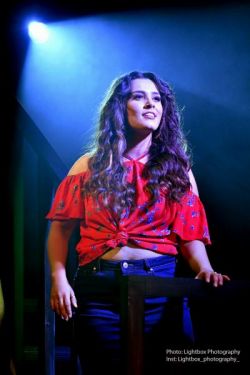 Pursuing their aspirations, the lives of this immigrant community, surely resonate with so many Australians.
It's not simply a beautifully balanced, diverse local cast which makes this production special. Amy Campbell's fierce, fiery choreography sets the theatre abuzz. Percussion driven accompaniment from Lucy Bermingham's excellent band pulses. Simon Greer's set ensures fluidity, effectively evoking a run-down upper Manhattan neighbourhood, while simply suggesting the three businesses located there, a bodega, a beauty salon and a taxi radio base, with Elizabeth Franklin's costuming adding vibrancy and colour to the visuals. Director Luke Joslin has created a big, bustling musical on this small stage.
Ryan Gonzalez is a force of nature, driving the production as Usnavi (the role composer/lyricist Miranda originated), running a bodega inherited from his parents, while dreaming of owning a Caribbean beachfront bar.
Marty Alix is great fun throughout as his cheeky sidekick and cousin Sonny.
Usnavi is keen on, but tongue-tied around, Vanessa, who works at the neighbouring beauty salon while aspiring to a life in downtown Manhattan, and what's not to love about Olivia Vasquez's sassy portrayal and her great vocals. Her scenes and numbers with fellow salon workers Libby Asciak and Monique Montez are great fun.
Tim 'Timomatic' Omaji makes an impressive crossover to musical theatre as the ambitious Benny, keen on Nina the boss's daughter, just home from college, played engagingly by Luisa Scrofani. Star-crossed, they're a bit 'Romeo and Juliet', but with a happy ending.
Both Ana Maria Belo's feisty Camilla and Margi De Ferranti's Abuela Claudia, the neighbourhood grandmother figure, shine representing older generations in this generally youthful community. As Nina's mother, Belo delivers some fierce comic timing, while De Ferranti is wise and caring, landing an emotional and vocal knockout blow in her big number "Paciencia y Fe".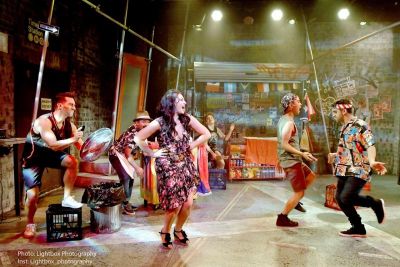 Among smaller roles played by this talented company of fifteen, Richard Valdez's scene-stealing street vendor is a real crowd pleaser.
Together the characters and their community, as drawn and explored through music, lyrical vernacular and dance, provide the unique charm of In The Heights, and this cast land them marvellously.
Could this be the best of the many wonderful evenings of musical theatre I've enjoyed at The Hayes? Very possibly, though that would be a very tight multiple photo finish.
Neil Litchfield
Images: Lightbox Photography