By Lin-Manuel Miranda and Quiara Alegria Hudes. Pelican ProductionsArts Theatre, Adelaide. 14-21 September, 2019
In the Heights won the 2008 Tony Award for Best Musical. It is a high-octane musical set within a Latino community in Washington Heights, New York.
Over one long hot summer in which electricity black-outs are the norm, the drama focuses on the respective stories of three families who live and work within this community.
Each story is inter-linked, not only because of the respective family business on this particular street in Washington Heights, but also through a narrator-figure, Usnavi, played with great charm in this production by Joshua Angeles.
This thrilling American Latino musical is essentially a 'street' musical. The respective stories are essentially all played out on this particular 'street' in Washington Heights.
Whilst the individual solos are all terrific, nonetheless it is when the stage fills with the entire ensemble and explodes in joyful celebration of life, despite adversity (such as a black-out), that this musical and this production reaches amazing heights.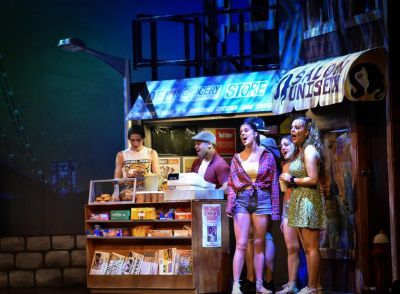 Pelican Productions are well-known for delivering productions of the highest calibre in all areas – singing, dancing, acting, directing, and design. This production of In the Heights is a wonderful addition to Pelican Productions' reputation. Director Emma Williams and her creative team deserve the highest praise for delivering such a fine production that excels in all areas.
Then there is this exceptional cast of 44 fabulous young people. Stand-outs include Joshua Angeles (Usnavi), Hannah Hamilton (Nina), Alana Iannace (Vanessa), Julian Perrini (Sonny), Allan Chang (Kevin), and Jasmin Teurlinos (Carla).
The entire ensemble, however, should be congratulated for performing with such commitment, talent and skill, making every moment in this production truly thrilling and engaging to experience.
Highly recommended.
Tony Knight