By Tom Stoppard. Adapted from Le Vent des Peupliers by Gerald Sibleyras. Director: Margaret Bell. Centenary Theatre Group, Chelmer Community Centre, Chelmer, Brisbane. 9-30 March, 2019.
Tom Stoppard's 2005 comedy Heroes is as fragile as the wounded egos of its three protagonists. Set in a French veterans home in 1959, and based on the original play by Gerald Sibleyas, three World War 1 vets plan a fanciful escape from their restricted environment: first to Indochina, then to a picnic outside, and finally to a copse of poplars on the far horizon. That it'll never happen is in no doubt, but their daily cantankerous musings about it on the porch of the retirement home are the basis of the play.
Long time resident Henri, who walks in the village to lasciviously eye the local school mistress, is missing half a leg, Phillipe suffers from blackouts caused by a piece of shrapnel lodged in his brain and is convinced Sister Madeleine who runs the home is trying to kill him, whilst the recently arrived Gustave, the bully of the trio, is agoraphobic. The fourth character, a stone statue of a dog, amusingly takes centre stage at times in their conversations.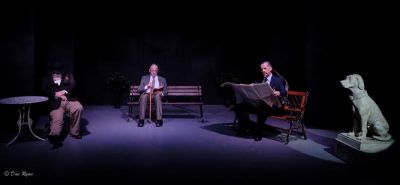 From the opening sounds of Debussy's Claire de Lune, Margaret Bell's production verbally takes flight and is light, frothy and charming, with three highly accomplished community theatre stalwarts giving three highly accomplished performances. Although Cam Castles' Gustave was overtly pompous, he found the pathos within the bluster. Gary Kliger's Henri landed laughs and deftly kept his sexual fantasies of the village schoolgirls and teacher to a naughty twinkle, whilst Andrew Wallace's Phillipe was continuously uproarious collapsing in a heap at the drop of a hat.
It's not Stoppard's greatest play, and it does play like an English version of a French boulevard comedy, but as a character study of aging and senility it gently hits its target.
Peter Pinne
Photographer: Dan Ryan.