Music & Lyrics: Cole Porter. Book: Arthur Kopit. Additional Lyrics: Susan Birkenhead. Based on the play The Philadelphia Story by Philip Barry and the movie High Society. Villanova Players. Directors: Jacqueline Kerr & Helen Ekundayo. Musical Director: Sean Fagan. Choreographer: Helen Ekundayo. Ron Hurley Theatre, Seven Hills, Qld. 2-18 Nov 2018
A joyous cast, a hard-working ensemble and an on-stage band give Cole Poter's High Society a big jolt of adrenaline in Villanova's final production for the year. Unlike the MGM movie, which was set in the 50s this 1997 adaptation takes it back twenty years earlier and allows for the inclusion of a swag of Porter songs from that period, and some stunningly elegant gowns.
Based on the play The Philadelphia Story, the plot follows a young rich socialite who plans to wed a klutz until she finally realises it's her divorced husband she really loves. Add songs and the mix is infectious.
The main reason the show fired was the presence of recent QUT graduate Louella Baldwin as the indecisive bride-to-be Tracy. Her line readings were spot-on, her movement had grace, and her vocals were a commanding strength, especially "Riding High". Michael McNish played the ex with urbanity and scored with Baldwin on the duet "True Love", which was a nice sentimental closer of the first act.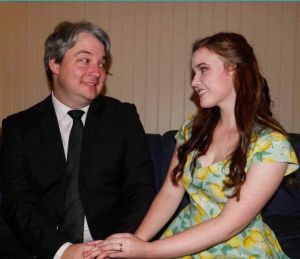 As Mike and Liz, the two newspaper sleuths, Peter Cattach and Lucy Moxon got laughs pretending not to be news hounds and warbled one of the show's better-known tunes "Who Want to be a Millionaire". Lillian Dowdell was terrific as the younger sister Dinah, Phillipa Bowe had fun as an inebriated society mother, Margaret, whilst Leo Bradley as Uncle Willie (another in his long list of stage drunks), brought life to "She's Got That Thing", a song excavated from Fifty Million Frenchmen, but was a riot in "Say It With Gin", a funny, funny song from the score of the 1930s The New Yorkers. Only problem was it wasn't long enough. Gary Condoseres made a good fist of the klutz, George, with Trevor Bond a reliable father-of-the-bride and philanderer.
I liked Jacqueline Kerr and Helen Ekundayo's production, with the white formal attire for the band and black and white maid and waiter costumes for the ensemble, who spent a good deal of time on stage as back-up to the principals. The routines were simple but well-drilled and the ensemble vocals lifted the chorus numbers whenever they sang. When Sean Fagan's band were at the top of their game, they sounded great, but occasionally, like the "True Love" yacht in the story, they were all at sea.
If at times the gaiety felt forced, and the champagne fizz a bit flat, it was still an enjoyable production.
Peter Pinne
Photographer: Nikki Fagan