By Juan Mayorga (translated by David Johnson). Redroom Theatre Company (Vic). Theatreworks, St Kilda. Director: Alister Smith. Set, Sound and Concept Design: Alister Smith. Lighting Design: Daniel Chapman. June 21 – July 1
On June 23, 1944, Red Cross workers inspected the Theresienstadt Concentration Camp north of Berlin. Rumours about atrocities being committed against the Jewish people were circling the world. Unthinkable things. Skeletal bodies in striped pyjamas, and worse. But the visitors found no starving children, mass graves, torture, or gas chambers - just 'an ordinary town'. It was a hoax code-named Operation Embellishment, orchestrated to pull-the-wool-over-the-eyes of the world.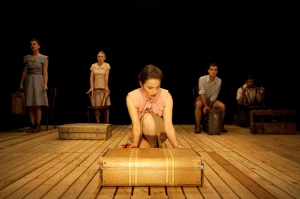 Himmelweg is a difficult and demanding work. The script is predominantly constructed of lengthy monologues. At times the repetition crosses the line from shifting emphasis and perspective, to labouring the point. True to its subject the cheerless script allows no relief from the tragic circumstances. Even the 'jokes' are disturbing.
Seven cast members (Nicholas Colla, Lily Constantine, Alex Duncan, Tim Paige John Shearman, Veronica Thomas, Claudia Tory) playing 13 characters all gave intuitive performances. Most remarkable was the imposing sense of detachment maintained between characters, right up until the father-daughter scene near the close. Unfortunately spoken voices were sometimes unclear over shuffling papers and amplified sound effects.
Lighting and sound design are most effective. The sound of trains brings passengers we never see, as they are led straight to the 'infirmary'. It is a haunting and unifying thread. Set design is minimalist to begin, but becomes more prop-based in the second half.
Opening night gathered an audience aged in 20s-30s. Himmelweg plays for two hours without interval.
Lucy Graham