By Loucas Loizou. Athens Productions. Adelaide Fringe Festival. Multiple Venues. 16 February-16 March, 2019
This was my final review for this year's Adelaide Fringe Festival, which began with The Flanagan Collective's wonderful treatment of the classical Greek myth Eurydice. It somehow feels appropriate that my Fringe Festival experiences conclude with another great classical Greek myth – Homer's Odyssey.
Homer's Odyssey is one of humanity's greatest classical 'romances'. The classical definition of 'romance' has very little to do with modern sentimental love stories. A classical 'romance' is 'a journey', and invariably it is a cyclic 'journey' from home and back again by a person or persons 'into the Woods' where they are transformed before they finally achieve the peace and comfort of 'home'. Homer's Odyssey is the first such 'journey', and its influence and legacy can be seen in Mark Twain's Huckleberry Finn, L. Frank Baum's The Wizard of Oz, J. R. Tolkien's The Hobbit and Lord of the Rings, as well as Stephen Sondheim's Into the Woods.
Loucas Loizou began his respective Adelaide Fringe 2019 performances in four different shows with his one-man musical version of Homer's Odyssey.
Loucas Loizou plays the elderly Odysseus reflecting on his extraordinary life, beginning with his marriage to his beloved Penelope and the birth of their son Telemachus. We are then taken to Aulis where the Greek fleet is waiting for the overdue winds to take them to Troy. This is not in Homer's Odyssey but is part of Odysseus' story and features in Homer's The Iliad as well as Euripides' play Iphigenia in Aulis. Odysseus then quickly recounts how the god Artemis had denied the Greeks the needed wind, and demanded a sacrifice – Agamemnon's young daughter, Iphigenia. This is achieved, partly through deception, and the Greeks depart for Troy.
However, before Odysseus relates his involvement with the Trojan War he tells us what happens to Agamemnon and the House of Atreus, including Clytemnestra, his wife and sister of Helen of Troy, and his children Orestes and Electra.
There is a reason for this, for whilst Odysseus was not directly involved in all this, nonetheless, he is the great 'trickster' in the whole story of The Iliad and The Odyssey, One of the characteristics of the classical 'trickster' character is that he or she operates in multiple worlds and societies. This is true of Odysseus who appears in numerous classical myth stories, including Queen Hecuba of Troy.
However, time does not permit Loucas Loizou to deal with everything about Odysseus. I was already impressed that he had ventured into the pre-Odyssey tales. As Loucas Loizou mentions in his one-man show, and later told me post-show, he did this because most people do not know the stories at all. Sadly, this is true, which is one reason why seeing his respective shows about the classical Greek characters and stories are so invaluably important.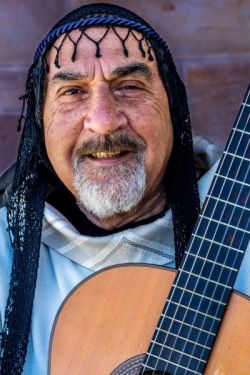 Concerning the Trojan War he does relate Odysseus' most famous 'trick', the 'Trojan Horse', which will end the ten-year Trojan War so that Odysseus and all the Greeks can return to their respective homes.
It is also in this part of the show that Loucas Loizou relates another important thing that Odysseus did to relive the Greeks' homesickness and 'melancholia'. He sings to them; and in this show it is the first of Loucas Loizou's beautiful and melodic songs, "Count Your Blessings".
Believe it or not, however, this was all just a precursor to the main event – The Odyssey – the ten-year journey home by Odysseus. This includes the loss of memory due to 'The Lotus Eaters', and his blinding and escapes from the cannibalistic one-eyed Cyclops, Polyphemus. This action brings down on him the wrath of the god Poseidon causing Odysseus and his men to recommence their journey back to Ithaca all over again.
Odysseus then meets the demi-god and witch, Circe, who falls in love with him and with whom he stays with for a number years. His eventual mutual parting from Circe produces one of Loucas Loizou's most beautiful songs, "Farewell to Circe".
Before he finally gets home, however, Odysseus survives capture by the sea-witch, Calypso (yes – the same Calypso who is in Pirates of the Caribbean), and the bewitching and deadly song of the Sirens. This unknown magical song, which many composers have attempted to re-create, is beautifully treated by Loucas Loizou as a song about childhood, and how the subsequent memories stir up loving memories that offer peace, solace and comfort.
Finally, Odysseus returns to Ithaca, only to discover his beloved Penelope is beset with ardent 'suitors'. With the aid of his son, Telemachus, and a couple of loyal servants, Odysseus takes his revenge, not just against the suitors, but all responsible for his sufferings.
It's not over yet – before he is reunited with Penelope he is transformed into his younger self by the god Athene. Subsequently, and ironically, Penelope doesn't recognize him. However, all is resolved and we finally achieve a happy ending.
The final song is not an original song – the spiritual ballad "Kum-ba-yah". Nonetheless, it is a perfect ending as chosen by the wonderful Loucas Loizou as it compels the audience to join in this song of peace. This is similar to the use of Cyndi Lauper's "Time after Time" and Joan Baez's "We Shall Overcome" that featured in other shows at this year's Fringe Festival, including Eurydice by The Flanagan Collective.
My 2019 Adelaide Fringe Festival experience began with Eurydice and ended with the Odyssey – both wonderful classical Greek myths that speak to us today about the human condition as much they ever did over 2,000 years ago.
Tony Knight