Music & Lyrics: Irving Berlin, George & Ira Gershwin, Jerome Kern, Peter Allen, Duke Ellington, Fats Waller, John Kander, Fred Ebb, Harold Arlen, Johnny Mercer and others. Book: Larry Buttrose & Kathryn Riding based on an idea by David Atkins and Max Lambert. David Atkins Enterprises Production. Director: David Atkins. Choreography: David Atkins & Dein Perry. Musical Director: David Stratton. Lyric Theatre, QPAC, Brisbane, 4-25 May 2013, later Sydney and Melbourne.
Thunderous applause, whoops, whistles, cheers and a standing ovation greeted the revival of David Atkins Hot Shoe Shuffle when it opened last night in Brisbane on the first leg of its new national tour.
If you love dynamic, muscular dancing then this is the show for you. A cast of new faces brought enormous energy and continued virtuosity to the art of tap dancing that can only be described as brilliant.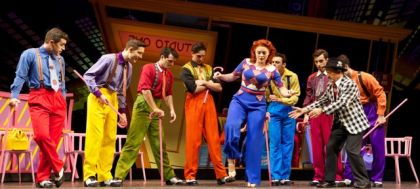 The thin story (it could be written on the back of a postage stamp) about seven tap-dancing brothers and their left-footed sister, was a simple excuse to hang some showy routines onto some big-band music.
Heading the Tap Brothers was ex Jersey Boy and Riverdance alumni Bobby Fox, whose spectacular dance displays frequently stopped the show. As April, the left-footed sister, Jaz Flowers proved she could more than hold her own in the dancing department whilst also belting a song to the rafters. Holding the whole show together was David Atkins who not only brought his years of experience to various roles, but also some much needed charisma and style.
The 11-piece big-band under David Stratton was at the top of their game, whilst lighting and sound never missed a cue. Eamon D'Arcy's set design, especially for The Act, was gaudy and glitzy with appropriately a giant mirror ball dominating the stage.
On its 21st anniversary, Hot Shoe Shuffle still has muscular legs and seems destined to emulate the success of the original.
Peter Pinne