By Hannie Rayson. Harbour Theatre. Directed by Thomas Dimmick. Camelot Theatre, Mosman Park, WA. 7-15 Dec, 2018
Australian classic Hotel Sorrento is being presented with style by Harbour Theatre, under the stewardship of young director Thomas Dimmick.
Set very simply, with furniture marking the different locales, and played against black drapes, lighting operated by Robert Tagliaferri or Thomas Dimmick helps to define each space.
The story centres around three sisters. Rosalyn Anderson (Hilary), Rachel Bartlett (Meg) and Sjaan Lucas (Pippa) create a convincing sibling relationship, with beautifully drawn performances which have conviction and grit.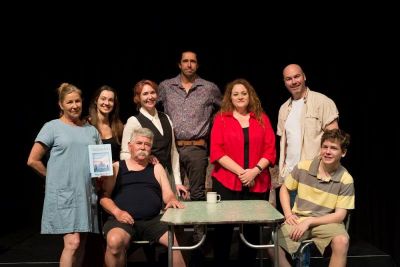 Their very Aussie dad, Wal, is played with wry humour and ocker charm by Rex Gray. Felix Malcolm brings maturity and great feeling to Hilary's son Troy and Robert Jackson adds colour and contrast as Meg's very English husband Edwin.
Lovely teamwork from Sally Boteler and Benn Rayner as friends Marge and Dick, who bring an outsiders' perspective to the central family.
The pace could have been a fraction faster on Opening Night, and transitions were slightly delayed, but this is a production that will certainly find its feet. A simple, intelligent and loyal incarnation of a loved Australian story, and a must-see for lovers of Australian drama, fans of literary fiction and drama students.
Kimberley Shaw