By Aidan Fennessy. Griffin Theatre Company. SBW Stables Theatre. 15 May - 20 June, 2015
Aidan Fennessy's The House on the Lake craftily brings to the stage the genre that the film industry seems to be stealing as their own: the thriller.
Criminal lawyer David (Huw Higginson) wakes up to find himself confined to a small, sparsely furnished room, unable to recall what happened the day before. Or even the week before, as it turns out. Psychologist Alice (Jeanette Cronin) provides us with the facts: he's been placed in a psychiatric ward after he was discovered in a disoriented state near the ruins of a lakeside holiday house. However, it will only be the recovery of David's anterograde amnesia that will give us the answer we're all after - why?
Higginson crafts a raw performance in his most vulnerable state of memory loss, balanced with the emergence of his sharp wit as he is coaxed out of confusion. The other half of the double act, Cronin, perfectly executes the measured tone of a stereotypical health professional "could you possibly stop talking at me as if I were a vegetable?"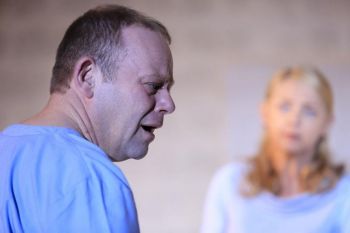 The Stabes Theatre proved to be the perfect space for this play. Its cramped performance space aided with the illusion that David was trapped in the confines of his sparse room, as the audience too were trapped within the confines of their seats in the tiny theatre.
Despite the singular setting, Fennessy sustains the audience's engagement entirely through the intricate plot. Kelly Ryall's eerie string underscoring brings this psychological minefield to life.
The House on the Lake provides a rare theatre experience, and I would suggest you start practising your Sudoku and crosswords now if you expect to uncover this 'whydunnit'.
Emma Squires
Photographer: Brett Boardman