Adelaide Cabaret Festival. The Thebarton Theatre. Friday 7 June, 2019
The Adelaide Cabaret Festival 2019 kicked off with a 'gala' event entitled The House is Live, directed by Craig Ilott. The highlights of this 'gala' were truly magnificent but not all was well.
The opening number was a version of Cole Porter's "Well, Did You Ever?" performed by Julia Zemiro (Artistic Director – Cabaret Festival) and Mitchel Butel (Artistic Director – SATC). Both are excellent performers - but there was unevenness and inconsistency re sound. You simply could not understand what Mitchel Butel was singing most of the time. This is not necessarily the fault of this excellent actor, but the flaws in the clarity of sound certainly diminished the overall effect of his performance. This issue of the sound being inconsistent re clarity also remained a relatively constant feature for this event.
Like any such show, there was a mix of top national and international cabaret artists. As well as Julia Zemerio and Mitchel Butel, they included The Swell Mob, Maude Davey, Alma Zygier, Omar Musa, Nikechi Anele, Rueben Kaye, Queenie van de Zandt, Paul Kapsis, and Meow-Meow. Inevitably one's own personal taste comes into play, preferring one act above another, which is the nature of such shows. However, not being able to understand what was being sung on more than one occasion also influenced one's preference. Furthermore, there is a difference between provoking an audience and patronizing them or putting them down. The cliché-ridden 'putdowns' that characterised some of the acts were neither funny nor engaging– just tedious. Thankfully, as is the nature of these events, a better act soon followed.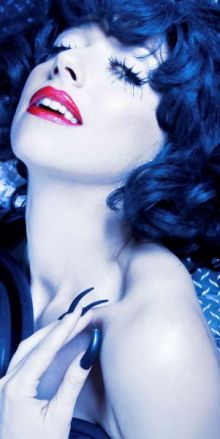 Paul Capsis was magnificent. He gave a fabulous rendition of Billie Holiday's version of "I Cover the Waterfront". This was goose-bumps thrilling. If you have never seen this extraordinary Australian cabaret artist I can only encourage you to see his show at this year's festival. Truly unique and truly wonderful. Capsis' performance alone made this 'gala' a worthwhile event.
Queenie van de Zandt was also another standout, particularly with her version of Stephen Sondheim's "Being Alive".
However, the best was the brilliant Meow-Meow. In one of her three fabulous numbers she got members of the audience up to perform as her chorus, with the occasional sharp reprimand 'Get it Together!' Here was an example of how to successfully directly engage with an audience that, whilst having the element of abuse is also extremely funny and engaging.
It was in the Encore, however, that Meow-Meow fully touched the heart and soul. Her solo song "For All the Girls" was done as a tribute to the late Frank Ford, the person who essentially established the Adelaide Cabaret Festival. With a hand-held light, Meow-Meow sang this poignant song, wandering through the audience and finishing by circling a single light-bud on stage, representative of the legacy of Frank Ford – a shining light in the darkness.
Overall, it was a successful opening to this year's Cabaret Festival – if only the clarity of the sound and audibility of the performers was better.
Tony Knight
Images Paul Capsis (Photographer: Mandy Hall), Meow Meow (Photographer: Karl Giant).