Written by Mark O'Rowe. Directed by Greg Carroll. Red Stitch Actors Theatre (Vic). March 16 - April 16, 2011.
Given that one-man shows are the ground in theatre where angels fear to tread, writer Mark O'Rowe is especially brave in taking a play with two actors and using only one in each act.
In each act, we meet dozens of characters through the eyes of either the Howie Lee (Paul Ashcroft) or the Rookie Lee (Tim Ross) and get dragged running through the streets of Dublin.
First up is Ashcroft as the cock-flopping, violent and horny scally, the Howie. In what has become the standard for excellence, Ashcroft is yet another WAAPA graduate who gives a gear-grindingly jolting performance.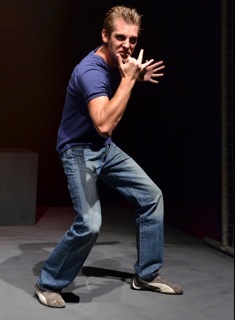 In the second act, pretty-boy funny man Ross — a former Adelaide stand-up comic, which aids his laugh-pulling power — starts out doing nothing but stitching up the story from the night before, letting us see the offstage characters from another perspective. At the climax, however, he delivers a mind-incinerating emotional wallop.
Claire Springett's lighting and Ben Shaw's set design effectively set the stage. The smoke, the wire fencing, and the lighting that enhances the actor's performance create an overpowering sense of foreboding.
O'Rowe may have walked in places that would burn angel's feet, but he has the storytelling gift of the Irish. Combined with the best independent theatre company in Melbourne, his approach becomes compelling must-see theatre.
Daniel G Taylor
Images: (top) Paul Ashcroft, (lower) Tim Ross.
Photographer: Jodie Hutchinson.