By Sue Smith. Director: Sam Strong. Queensland Theatre & State Theatre Company of South Australia co-production. Bille Brown Studio, South Brisbane. 9 March – 6 April 2019.
George Johnston and Charmian Clift were the Australian literary darlings of the 50s: authors who rejected Western consumerism and decamped to a remote Greek island to become 'real' novelists. That they eked out a hand-to-mouth living for ten years before the success of Johnston's My Brother Jack becomes the background to Sue Smith's Hydra, a play that explores their intense love for each other, their fractured marriage with its infidelity, alcoholism, illness and jealousy.
With its white stucco set, ambient sounds of waves crashing over rocks, and an occasional touch of bouzouki, Sam Strong's production reeked of an island paradise in the Mediterranean. It was the ideal setting for Smith's poetic journey into the existential bohemian world the authors created.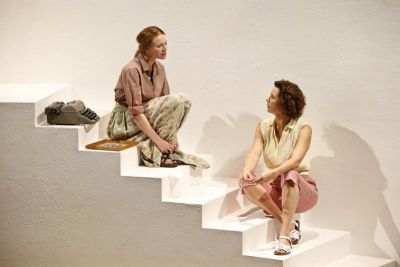 Anna McGahan's Clift was wilful, seductive, and determined, willingly subsuming her own career to advance her husband's. Bryan Proberts' George had a touch of the larrikin, was fiercely possessive, and raged when he discovered he was being cuckolded. Together they created sparks. In fact at times during their drunken fights we could have been watching George and Martha in Who's Afraid of Virginia Woolf? At others their loneliness and isolation was palpable.
As Ursula, Tiffany Lyndall-Knight brought the outside world to this viperous conclave, with a good deal of common-sense that fell on deaf ears, whilst Hugh Parker's Vic, an amalgam of Sidney Nolan, Leonard Cohan and others was quietly supportive of their Agean dream. Ray Chong Nee, in multiple roles, but mainly as Frenchman Jean-Claude, Clift's lover, lacked a sensuous appeal for the Gallic swain, but Nathan O'Keefe as the eldest child Martin was an ingratiating narrator.
Nigel Levings' lighting was top of the range, and at times created magic, especially the ceiling of pin-lights that descended mid-play. The finale with Clift's suicide was handled with restraint. I can't say I felt empathy for either Johnston or Clift, but Smith at least helped us to understand their choices.
Peter Pinne
Photographer: Jeff Busby