By Peter Colley. St Jude's Players (SA). St Jude's Hall. April 4th – 13th, 2019
If you like ghostly tales with a twist and don't mind jumping out of your chair at the theatre, then St Jude's Players' latest offering will be right up your alley. Canadian playwright Peter Colley wrote this Hitchcock-styled psychological thriller over 20 years ago and it has lost none of its spine-tingling charm.
Experienced director Ian Rigney has brought this thriller to life. His attention to detail and sharp direction has you on the edge of your seat from the opening seconds of the play. Helped by the fabulous set design by Don Oakley and Mary-Jane Minear, you indeed feel like you are actually in a remote, rundown farmhouse. Sound designer John Palfrey has produced enough chilling sound effects to last the entire performance.
Greg Sanderson (Leighton Vogt) has rented a rustic farmhouse in the middle of nowhere to help with his wife Jan's rehabilitation. Jan (Carolina Kaye) has just been released from hospital after suffering a nervous breakdown. A fragile Jan is not overly thrilled with his gesture but agrees to make the best of it; that is until Greg reveals that his sister Laura (Miriam Keane) will be joining them for a few days.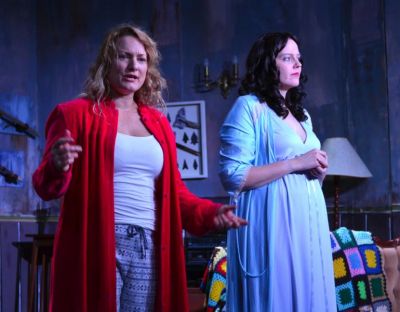 It seems that Greg and Laura's complicated relationship was the catalyst for Jan's breakdown and she is extremely upset to learn of their impending visitor.
Farmer George Willowby (Tim Cousins) rented the house to Greg and pops over on their arrival to welcome the couple. He takes pleasure in revealing the history of the house and the re-telling of ghostly tales of the area.
There is not a weak link on stage; each character is layered, and the actors' interpretation of their roles is spot on. I was invested in the story from the start and the unpredictable conclusion was fabulous.
Once again, the team at St Jude's has produced an entertaining night at the theatre that will have you reeling, right up until the comical curtain call.
Kerry Cooper