Adapted from the book by Wendy Binks. A QPAC and Southern Cross Soloists Production for Out of the Box 2012. Director: Brendan Ross. Composer: Joseph Twist. Designer: Josh Mcintosh. Actor / Dancer: Stacey McCallum. Musicians: Southern Cross Soloists. Queensland Performing Arts Centre. 12 – 17 June 2012.
To celebrate the 20th anniversary of the Out of the Box children's festival for 3 to 8 year olds, the Queensland Performing Arts Centre and Southern Cross Soloists commissioned a new work based on the best-selling children's book Invisible Me by West Australian author Wendy Binks.
The stage adaptation ofInvisible Me is an absolutely charming and delightful piece of children's theatre, that captures the imagination and attention of its intended audience through its music, movement and design.
From the moment actor/dancer Stacey McCallum appears on stage, she is channelling Binks' character of Stripey, the baby emu who sets off on an adventure in his search for camouflage. This adventure is made all the more believable with the help of Josh Mcintosh's set design, which captures the varied and iconic Australian landscapes.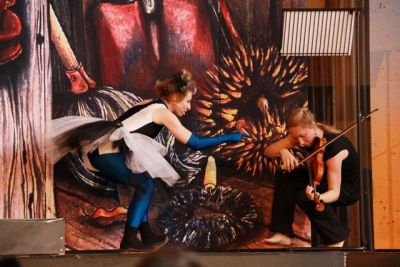 The Southern Cross Soloists have extended their performance prowess tenfold by stepping outside their everyday comfort zone as classical musicians. After all it's not every day you would expect to see them dancing like ballerinas or pretending to be Australian wildlife such as a Goanna (Tania Fraser, cor anglais) or an Echidna (Paula Newcomb, violin). But they manage to throw themselves into their roles and are totally committed in bringing the characters to life in what could easily be described as an Aussie nod to Prokofiev's Peter and the Wolf.
Joseph Twist is a composer whose star is on the rise, and he has created an absolutely enchanting score for this chamber music piece, with a definite filmic quality to it. The score has some very memorable themes and captures the mood and feelings of the characters, story and the Outback.
Director Brendan Ross has done a wonderful job, managing to find the right balance in presenting the story skillfully; successfully melding the design, music and movement elements of the piece into a very classy piece of theatre.
Invisible Medeserves to be seen by a much wider audience around the country, so let's hope an astute producer takes it on.
Paul Dellit