By Elizabeth Coleman. HIT Productions. Glen Street Theatre. April 10 – 20, 2013
It's hard to tell whether this play was written as a comedy or a farce – and this production doesn't make the confusion any clearer!
It has a competent cast including the necessary 'star' – Henri Szeps – that is needed by a touring production to attract audiences.
It has a good set, cleverly designed for touring by Shaun Gurton. A photographic backdrop surround of a red brick suburban homesets the scene, the stage itself a sparsely furnished living room with a large wall clock, essential to the action.
The lighting design (Jason Bovard) is effective and relatively simple enough to be set and operated on tour. The sound is a little more problematic - the ticking clock being so loud and predictable that it also misses the magic line between farce and comedy.
Obviously the cast and designers have worked hard to get this play on the road. But it doesn't quite make it – and that seems to result of the writing rather than Denis Moore's directorial decisions.
The theme is family relationships, but the plot is farcical. Ron Patterson (Szeps) has been told he has three months to live. On the last day of the three months he calls his family together for the final hours of his life. The family is, predictably, dysfunctional. His children don't really like Ron, or each other, very much. His wife, Dawn, (Robyn Arthur), is the thread that binds them, but even she is a little time-worn.
All of children have issues, personal and with Ron – and they shout them at each other relatively constantly (pun intended). There isn't a great deal of character development and this would be fine if there were also the twist and pace of farce. It almost gets there when, in some of the final moments, the undertaker (Matt Furlani) joins the action, but the dialogue just doesn't seem to allow it.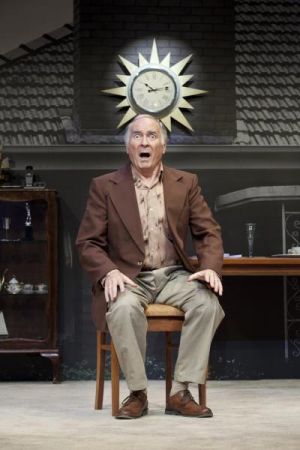 Again, I stress, the cast works hard. Trent Baker as Ron's only son, Michael, has all the qualities necessary for farce. He has a fine command of the stage, and manages to find some light and shade the role, which has some depth and is the most clearly drawn of the characters. Baker uses this to raise the pace of his scenes.
Sharon Davies, as his sister Debbie, consistently makes the most of a fairly sketchily written character. She has to listen a lot – and she does it well! As does the youngest child, Ron's favourite, Karen, played by Freya Pragt. Unfortunately when she isn't listening, she is required to whine and complain about the others. Both Davies and Pragt make the most of fairly repetitive dialogue and create characters that could work well for farce.
Robyn Arthur and Henri Szeps bring the drawing power of reputation and experience to the production. They are old hands, and they know their stuff. Arthur comes into her own in the second act, giving the audience the opportunity to see her ability more clearly. Her dialogue is stronger here, her character more active and able to be developed more strongly.
Henri Szeps is … Henri Szeps! He fills Ron's shoes with his usual aplomb, but he has played similar roles with a lot more assurance and credibility. He has obviously been directed to shout a lot – as have the others – and they do!
This is a relatively good production of a play that takes a farcical situation and doesn't make in into a farce. The laughs are there however and the cast delivers them well – and most audiences will find that entertaining enough.
Carol Wimmer
Image: Clockwise, Matt Furlani as Ted Wilkins, Freya Pragt as Karen Patterson, Trent Baker as Michael Patterson, Robyn Arthur as Dawn Patterson, Sharon Davis as Debbie Patterson and Henri Szeps as Don Patterson.