By Stephen Sewell. Theatre on Chester, Epping, NSW. April 12 – May 4, 2013.
One at a time it's revealed that there's no electricity, the phones, intercom and lifts are out, the internet is down, there's no network on the mobiles, no radio or TV, and the batteries in the flashlight are dead.
Not good when you live in a 47th floor apartment and don't even remember what stairs are!
Is it just a massive catastrophic blackout, showing just how reliant we've become on technology, or is this, literally, the end of the world?
After a funny though somewhat black first act, Sewell's play becomes even darker in the second act until we're not laughing anymore, as the façade of civilization breaks down.
Four fairly unlikeable characters people the play, a self-centred younger American couple and the neighbours, a vaguely (at first, and progressively more so) menacing middle-aged Australian couple.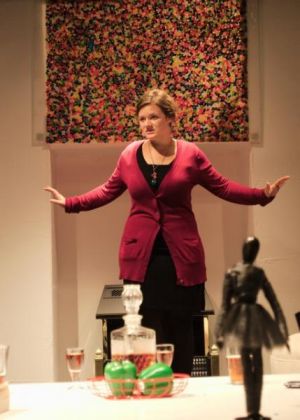 Andy Madden as Franklin and Miranda Drake as Beth, the younger couple, sustain a lively though strained repartee through the opening passages of the play. It's a relationship that seems to be under stress, but retains plenty of well-played spark. As the older couple, Phil Lye creates a credibly 'ugly' Aussie as Bill, while Margaret Olive's Pearl is quite a mix of inner guile, outer simplicity and rather creepy sexuality. Their relationship carries an interesting conspiratorial edge. All four performances are strong.
Along with the wit of the play comes a constant sense of dramatic tension, and Linda Lorenza's well-paced production never lets that tension flag.
If I say too much more I'll be labelled a spoiler.
Luke Wallyn's set design provides a functional apartment loungeroom, while for mine not quite achieving the feel of a modern high-rise apartment, though the massive jelly-bean feature was very striking.
It's the kind of comedy that has you laughing freely and regularly until that moment when you find a knot tightening in your stomach. Did I enjoy the play, someone asked as I left the theatre. Probably better to ask did I have a satisfying night in the theatre. It's far easier to say yes to the second.
A bold choice of programming by Theatre on Chester, well executed, and certainly well worth catching.
Neil Litchfield