By David Williamson. Ensemble Theatre (NSW). January 29 - April 2, 2016.
David Williamson is so tall that he needs to duck (slightly) to avoid hitting his head on the top of the door frame as he leaves the Ensemble Theatre auditorium.
The Playwright/Director of this production literally and figuratively towers over Australian drama.
Who else can pen an original new play with a cast of seven, for a company with no Government subsidy, and almost sell out before opening?
Jack of Hearts is his funniest play in years. Like a 19thcentury composer penning an operetta for his favourite soprano or tenor, David Williamson has written this play to suit the talent of his leading man Chris Taylor, best known for his work on The Chaser.
What better device to give a wisecracking comedian, than a wise cracking stand-up routine? He was very comfortable in his character. Jack starts as a ruined junior lawyer who has thrown in his day job, searching for a creative outlet and ends having restored his mojo, telling jokes as he watches a love quadrangle develop.
His fellow Chaser Craig Reucassel had no such joke telling outlet. He was challenged to play Jack's mate Stu, a "total sleazy lying" real estate agent. There was no let up as he fails to keep secret his affair with Nikki, an "all tits no brain" aspiring real estate agent. When she gave a vigorous impersonation of one of his smuttier habits he got a bout of giggles.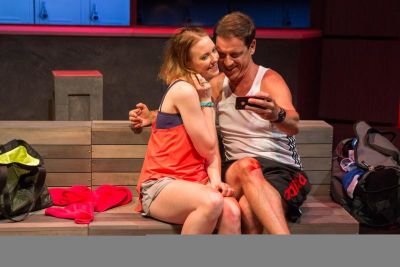 Stu's long suffering wife Denys was played sublimely by Brooke Satchwell.
There were other delicious characters to savour. Peter Mochrie as Carl, the out of control narcissist current affairs television host, Paige Gardiner as Jack's unfaithful wife Emma and Christa Nicola as Kelli, the manager of a resort where the drama takes off.
Helping drive the narrative along was a sparkling screen backdrop that deftly changed the scene from Sydney's north-shore to a tropical island when required. Who needs an expensive set when you whip up some visuals and have the cast push around a few blocks on stage.
Having said that with a few tweaks Jack of Hearts could make a good movie.
David Spicer
Images: (top) Chris Taylor as Jack and Craig Reucassel as Stu, and (lower) Paige Gardiner as Emma and Peter Mochrie as Carl. Photographer: Clare Hawley.